Annual Fall Field Conferences
Overview
Every fall since 1950, the Society has held a field conference to some part of New Mexico and, in some cases, to border states. From the beginning, the conference has been accompanied by a guidebook with detailed road logs as well as peer-reviewed papers relevant to the region. These guidebooks remain as invaluable references to the geology of the conference study area and most are available for purchase.
Widespread enthusiasm for the Fall Field Conferences has led to receipt of many proposals for future conferences. Therefore, the schedule of upcoming field conferences is now outlined for the next several years. The field conference venues and names of organizers are listed below. All members are encouraged to volunteer assistance to the organizers or to contribute to the guidebooks. If you live near or are involved with the geology in the vicinity of the future conference sites, please consider contacting one of the organizers.
2021
*

: Geology of the Mt. Taylor Area — May 15-18, 2022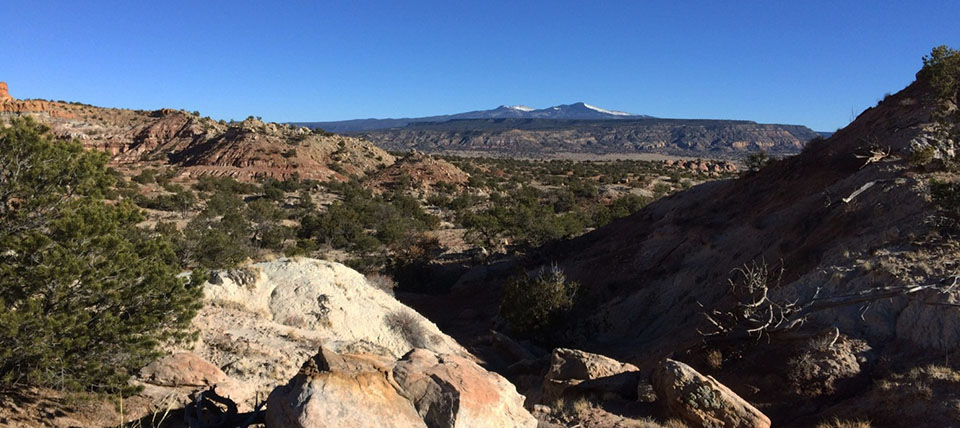 The 2021* NMGS Fall Field Conference will visit the area around Mt. Taylor, a stratovolcano near Grants, New Mexico. The motivations for hosting a conference at Mt. Taylor are two-fold: 1) the completion of the Mt. Taylor geologic map and 2) the conclusion of "Energize New Mexico," a five-year, NSF-funded program to support research in non-carbon emitting energy resources, including uranium resources. Researchers from the projects will lead or present during the conference. The Mt. Taylor area is rich in geologic history, including the relatively rapid creation of a complex volcanic mountain, the important uranium and coal deposits preserved in the shadows of Mt. Taylor and the resulting mining legacy, and the Jurassic and Cretaceous stratigraphy within and surrounding Mt. Taylor.
Guidebook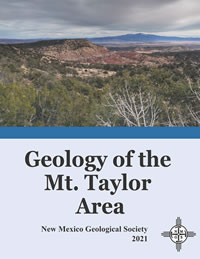 The 310 page guidebook for the conference covers many aspects of the Mount Taylor area and includes 3 road logs and 21 research papers. You can read papers from this guidebook prior to the conference.
A full version of the 2021 Guidebook is included with registration. A spiral bound guidebook containing only the roadlogs will be available for separate purchase.
Because this conference was postponed in 2020 due to the global pandemic, papers prepared for publication in 2020 were released as Special Publication 14: The Geology of the Mount Taylor Area. These papers, with some revisions, have been re-published in the guidebook for the 2021 conference, along with roadlogs and mini-papers.
Conference Details
Below are further details of what to expect:
Registration
*
Registration is full for the conference, but a waiting list is available.
Because of the conference cancellation, full refunds can be requested. However you may choose to pay $65 for the guidebook and/or $25/$30 for a short/long-sleeve T-shirt. You may also choose to roll your registration over to attend the Mt. Taylor conference if it proceeds as planned in late May or early June of 2022. Please contact Connie Apache via email or phone to make whatever arrangements are best for you.
Health
We will follow CDC and New Mexico guidelines in effect at the time of the conference.
To facilitate social distancing and to limit the number of vehicles in sensitive areas, attendance will be capped at 100 attendees, and student scholarships will be limited to 20 students.
All attendees are required to be fully vaccinated before the trip for the safety of friends and colleagues.
Although masks are not currently required,

some property owners are strongly recommending masks for everyone

. Mask guidance and/or mandates may change by the time the conference happens. Please plan accordingly.
Please be aware that we may need to alter our plans should there be COVID spikes and if the CDC, New Mexico governor, or local communities reinstate closure plans, group limits, or any other response to new outbreaks. The health of our attendees, conveners and hosting communities is our first priority. Registration charges will be refunded in the case of a late cancellation of the conference.
Transportation
For all three days, the conference will be traveling in high-clearance car caravans. The trip will start and end every day from a staging area in the parking lot at between Quality Inn and Days Inn.
The caravan of personal vehicles will have groups of up to five individuals or fewer who agree to travel together, which will be referred to as a "pod" or "travel pod" during the conference.
Food and Drinks
The registration fee includes the Ice Breaker, BBQ dinner, and banquet dinner, as well as daily lunches, snacks, and beverages. Because hotels are limiting their breakfast options, we will also provide breakfast burritos each morning from Gabby's Cafe. Attendees should also plan to carry their own water supply in their personal vehicles. The NMGS drink truck will have only an emergency supply of water.
Snacks will only be available at the beginning of each day and at lunch. Attendees will be responsible for collecting snacks at that time to get them through each half day. Only individually packaged snacks will be provided. Cold sports drinks will be available at each stop, especially the hot ones.
Accommodations
All three nights are based out of Grants, where several hotels near our staging area between Quality Inn and Days Innoffer plenty of lodging options.

We have reserved blocks of rooms at:

Quality Inn, $69.00 plus tax, 505-240-6239; Days Inn, $67.45 plus tax — 505-240-6518.
Holiday Inn is also offering a block of rooms $115 + tax for Wednesday, $105 + tax for Thursday / Friday — 505-287-9252.
Motel 6 is offering $65.99 for one adult, $78.99 for four adults (four adults maximum). NMGS is the group rate name — 505-285-4607.
Lavaland RV Park is across the interstate from "hotel row" and includes tent spots in addition to the RV parking — 505-287-8665.
Publications
Itinerary
Aside from the icebreaker, we will start each day at the gathering location between the Quality Inn and the Days Inn in Grants. Please be prepared to leave the parking lot by 7:45 a.m. all three days.
Day Zero: (Sunday May 15th)  
The icebreaker will be held at El Malpais National Monument Visitor Center located just off of I- 40 at Grants exit 85 (1900 E Santa Fe Ave.) between 5 and 7 pm.
Day One: (Monday May 16th)
View the stratigraphy west of Mt. Taylor, from the Jurassic Entrada Sandstone through the Cretaceous Point Lookout Sandstone.
Day Two: (Tuesday May 17th)
Travel up Water Canyon to the Mt. Taylor Amphitheater, to view the tuffs and other volcanics of Mt. Taylor and their surrounding sediments. There will be several short hikes over rugged terrain, so wear suitable footwear.
Day Three: (Wednesday May 18th)
Learn about the legacy of the Jackpile Member of the Morrison Formation, the setting of its deposition, implications for uranium mining and remediation resulting from its uranium mineralization, and a last look at volcanic features associated with Mt. Taylor.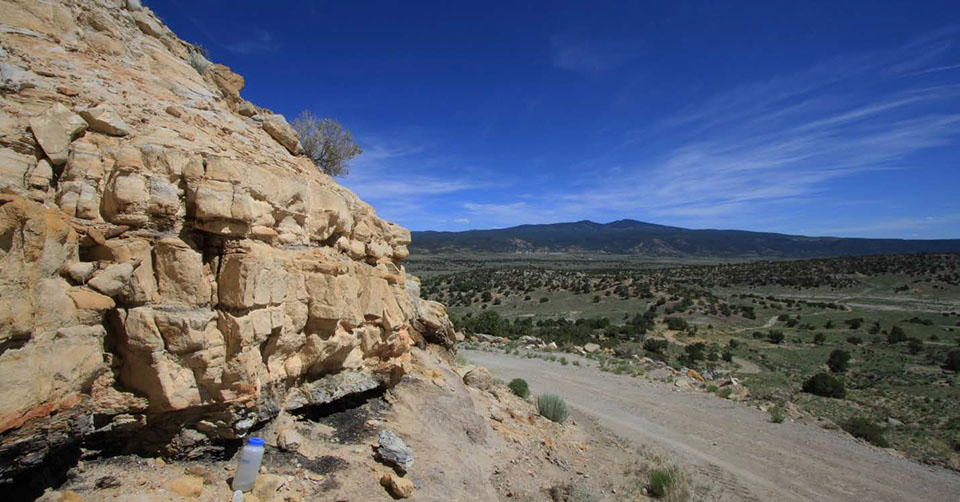 Future Conferences:
2022: Geology of the Socorro Area III (September 29 through October 1, 2022)
2023: Southeast New Mexico
---
If you have an idea for a future field conference, please contact the President of the NMGS.
Photos From Past Fall Field Conferences
Everyone is invited to share their best digital photos of past conferences with the rest of the Society membership. Please contact the society webmaster via the 'comments' link below.