New Mexico Geological Society
Special Publication - 7
Field Guide to Selected Cauldrons and Mining Districts of the Datil-Mogollon Volcanic Field, New Mexico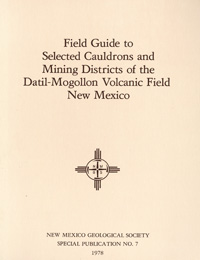 Charles E. Chapin, Wolfgang E. Elston and H. L. James, eds, 1978, 149 pages.
This, the seventh conference in the series, is to carry us to greater heights and greener postures than before. If these anticipated goals are not to be a geologic nature, and we believe that they will be, they will at least be such in a literal sense. This year's conference leads us through the majestic Sangre de cristo Mountains and their picturesque, green valleys. Peaks in excess of tweleve thousand feet in altitude will dominate the skyline throughout the trip, and the third day the caravan will pass in the shadow of 13,160 foot wheeler peak, the highest point in New Mexico. Let us hope that our conference will precede the first snowfall, for travel might become exceedingly difficult if such a novelty were to be included in the program.
Table of Contents available for download (1.59 MB PDF requires Acrobat 7.0 or later)