Annual Fall Field Conference
Geology of the Ouray-Silverton Area
september 27-30, 2017

Every fall since 1950, the Society has held a field conference to some part of New Mexico and, in some cases, to border states. From the beginning, the conference has been accompanied by a guidebook with detailed road logs as well as peer-reviewed papers relevant to the region. These guidebooks remain as invaluable references to the geology of the conference study area and most are available for purchase.
Widespread enthusiasm for the Fall Field Conferences has led to receipt of many proposals for future conferences. Therefore, the schedule of upcoming field conferences is now outlined for the next several years. The field conference venues and names of organizers are listed below. All members are encouraged to volunteer assistance to the organizers or to contribute to the guidebooks. If you live near or are involved with the geology in the vicinity of the future conference sites, please consider contacting one of the organizers.
2017: Ouray-Silverton Area


Overview
The 2017 NMGS Fall Field Conference will examine the geologic history of the Ouray- Silverton area of southwestern Colorado. Many aspects of the geologic record exposed here are similar to northern New Mexico such that "across the border" comparisons are important for understanding regional geology. Past NMGS field conferences to the western San Juan Mountains were held in 1957 and 1968, about 60 and 50 years ago. We use the 2017 conference as a retrospective of geologic advances over this timeframe and a snapshot of future research directions. Proterozoic basement exposures in the San Juan Mountains include 1.8-1.7 basement of the Yavapai province and the overlying Uncompahgre Formation, both of which may generally correlate with the Paleoproterozoic basement and Ortega Quartzite of northern New Mexico. Paleozoic and Mesozoic stratigraphic units of the SJM are uplifted to 3 km elevations in a dome-shaped uplift that borders the northern San Juan basin where correlative units are as much as 3 km below sea level.  The Laramide uplift of this range was intimately tied to development of the San Juan basin. In the Oligocene, caldera-forming rhyolite and dacite ignimbrite eruptions formed a volcanic highland with an extensive volcaniclastic apron that extended across northern New Mexico. Young (post-15 Ma) uplift and magmatism in the SJM continues to shape the topography. World class ore deposits of the southwestern Colorado reflect the same range in ages observed in the uplift and magmatic history with Laramide, mid-Tertiary, and post-15 Ma components. Quaternary geomorphology involves glacial records and deep incision along the Animas and Uncompahgre rivers. The San Juan Mountains are the headwaters for radial rivers, the Rio Grande, Rio Chama, Rio San Juan, and Rio Dolores systems and snowpack variations dramatically influence surface water supply for the Four Corners region. Human history involves early native populations, a historic gold rush, and present day skiing and recreation communities. This area has been called the Switzerland of Colorado for good reason—it provides an excellent and diverse geologic region for the NMGS 2017 field conference.
Conference organizers and leaders are Karl Karlstrom, David Gonzales, and Matt Zimmerer, and Matt Heizler. General logistical and technical support provided by Andres Aslan, Laura Crossey, and Lynn Heizler.
Day 0 - Participants will hike the Colorado Trail at Molas Pass down to the rim of the Animas River gorge and then loop back to vehicles and return to Silverton (about 4.5 miles round trip). With spectacular fall colors, views, and outcrops we will explore Paleozoic strata, the Great Unconformity, the Paleoproterozoic history recorded in the Irving Formation, Twilight Gneiss, and Uncompahgre Group, and geomorphology of the Animas Gorge.  A sack lunch and beverage will be provided ($25 each).
Details:
ASSEMBLE: The pre-meeting hikers will meet at the Colorado Trail trailhead on US Highway 550 5.9 miles south of Silverton Colorado at 8:15 AM on September 27, 2017. We will have flaggers marking the turn and helping you park your personal vehicles. The hike will take off from the south side of the parking lot at 8:30 AM.
LOCATION: Lat: 37.74809:, Long -107.68901: 5.9 miles south of Silverton CO (allow 15 minutes for the drive), 42 miles north of Durango (allow 55 minutes for the drive).
BOOK YOUR OWN ACCOMMODATION ON TUES NIGHT SEPT 26: IF YOU HAVE NOT ALREADY DONE SO. Options are: Silverton (15 minute drive to trailhead), Purgatory Mtn Resort (25 minute drive to trailhead), Durango (55 minute drive to trailhead), or Ouray (55 minute drive to trailhead).
WHAT TO BRING: We will supply a box lunch (with a drink). Please bring sunscreen, hat, rain gear, layers (might be chilly), hiking poles (if you like them), water/ drinks, day pack, etc.
THE SCHEDULE: We will:
Park the vehicles at the CO Trail trailhead at 8:15 AM
Start hiking at 8:30 AM
Hike about 4.5 miles roundtrip, to the lip of the Animas Gorge and back
Have lunch at the lip of the Animas Gorge
Hike at an average elevation of 10,500 feet
Go down (and back up) ~1000 vertical feet
Be on a good trail
See fantastic geology
Have geoflaggers stationed at key stops
Get back to your vehicles ~ 3 PM in time to get to Ouray ~ 4:30 PM.
THERE IS NO TRAIN RIDE PLANNED (THIS FELL THROUGH)
SEND QUESTIONS TO KARL KARLSTROM (kek1@unm.edu)
Day 1 will be somewhat unique as we hike the 4.2-mile Ouray Perimeter Trail that loops through excellent exposures of Uncompahgre Formation, Paleozoic and Mesozoic stratigraphy, Ancestral Rockies and Laramide faults, hot springs, and ore deposits. The hike will allow participants to explore the fantastic geology exposed at Box Canyon Falls. 19 GPS located stops are described in the road log. Shuttles will be provided for those not interested in hiking the entire perimeter trail and we will end with plenty of time to enjoy the Ouray Hot Springs.
Day 2 focuses on volcanism and ore deposits near Silverton and Red Mountain. We will recap the Precambrian and Paleozoic history and get an overview of the volcanic and plutonic history of the western San Juan caldera complex and related mineralization. Outcrops include postcaldera intrusions and caldera margin megabreccia, breccia pipes and related high-sulfidation ore systems.
Day 3 Options:
Departs Ouray and heads north to Ridgway ending in Rico. This trip visits hot spring locations and discusses the glacial history as well as many other geologic features.
Departs Ouray and heads south to Silverton to see and discuss hydrologic and environmental issues related to ore deposits and mining activities.
Schedule
Wednesday, September 27, 2017 – Pre-Meeting Field Trip - Molas Pass hike
8:15am: Assemble in Silverton where train unloads near Cement and 12th St.
4:30pm: Back at Silverton

Registration and Ice Breaker – Ouray Elks Club
6:00pm – 9:00pm: Registration and Ice Breaker at the Ouray Elks Club. Light food with a complementary drink provided. Cash bar will also be available.

Thursday, Sept. 28, 2017 – Day 1: Perimeter Trail
8:00am: Assemble at Twin Peaks Lodge
8:30pm: Hike begins at Baby Bathtubs Trailhead.
12:30pm: Lunch at Box Canyon Parking area.
2:00pm: Cascade Falls to begin afternoon hike.
4:00pm: Hot springs soak
6:00pm: BBQ at Fellin Park

Friday, Sept. 29, 2017 – Day 2: Silverton Caldera
8:00am: Assemble at Twin Peaks Lodge
12:00pm: Lunch near Animas Forks
1:30pm: Red Mountain
6:00pm: Banquet at Ouray Community Center

Saturday, Sept. 30, 2017 – Day 3a: Rico. 3b Silverton
8:00 am: Groups depart Twin Peaks Lodge.
12:00 pm: Lunch in either Rico or Silverton.

1:00 pm: Conference ends.
Accomodations
Participants are responsible for making their own lodging reservations.
Lodging is limited in Ouray as this is peak season to visit the area. The Society has booked 52 rooms at the Twin Peaks Lodge for 3 nights beginning Sept. 27. We have a special rate of $125/night that includes taxes and fees and participants staying here will need to contact Connie Apache (575-835-5302) to book a room at the lodge and make payment directly to the Society. There are some additional rooms at the following locations.
Comfort Inn (970-325-7203): 9 each, Double-queen rooms blocked for NMGS. $150.00+fees. Call hotel directly and book by Sept. 1.
Several rooms have been reserved on Expedia under the name Matt Heizler. You can call the locations below to reserve a room and transfer the reservation to your name.
Abram Inn & Suites (888-950-5062): 6 each, single king rooms ($130.00+fees and taxes). 2 each, 1 king + 2 queen (sleeps 6), $180+fees and taxes.
Timber Ridge Lodge (970-325-7310); 1 each, single king ($116) and 2 each, double queen ($133).
Box Canyon Lodge (970-325-4981); 3 single king rooms ($172 average. per night).
Ouray Inn (970-325-9855): 3 single king rooms ($160).
Please view additional details regarding lodging arrangements for this conference.
Transportation
Travel will be mostly in vans with some high capacity personal vehicles included as needed. The trip will start each day at the Twin Peaks Lodge. The registration fee includes the Ice Breaker, BBQ dinner, and banquet dinner, as well as daily lunches, snacks, and beverages. Participants are responsible for their own breakfasts.
Registration
Online, phone, and mail-in registration will be available starting July 17th, 2017.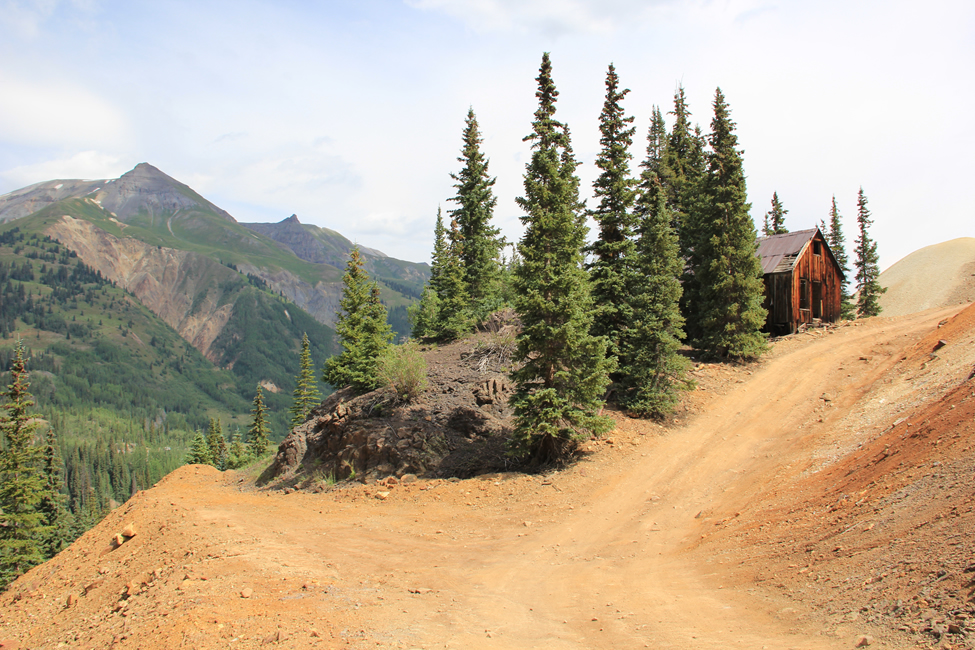 Guidebook
The guidebook for the conference covers many aspects of the San Juan Mountains region and includes 5 road/hiking logs and 16 research papers.
A full version of the 2017 Guidebook is included with registration. A spiral bound Guidebook containing roadlogs only along with 16 color plates will be available for separate purchase.
Future Conferences:
2017: Ouray Colorado
2018: Las Cruces
2019: Raton
---
If you have an idea for a future field conference, please contact the President of the NMGS.
Photos From Past Fall Field Conferences
Everyone is invited to share their best digital photos of past conferences with the rest of the Society membership. Please contact the society webmaster via the 'comments' link below.