Annual Fall Field Conferences
Overview
Every fall since 1950, the Society has held a field conference to some part of New Mexico and, in some cases, to border states. From the beginning, the conference has been accompanied by a guidebook with detailed road logs as well as peer-reviewed papers relevant to the region. These guidebooks remain as invaluable references to the geology of the conference study area and most are available for purchase.
Widespread enthusiasm for the Fall Field Conferences has led to receipt of many proposals for future conferences. Therefore, the schedule of upcoming field conferences is now outlined for the next several years. The field conference venues and names of organizers are listed below. All members are encouraged to volunteer assistance to the organizers or to contribute to the guidebooks. If you live near or are involved with the geology in the vicinity of the future conference sites, please consider contacting one of the organizers.
2022: Geology of the Socorro Region III
(Sept 29 through Oct 1, 2022; limited-capacity pre-meeting field trip on Sept 28)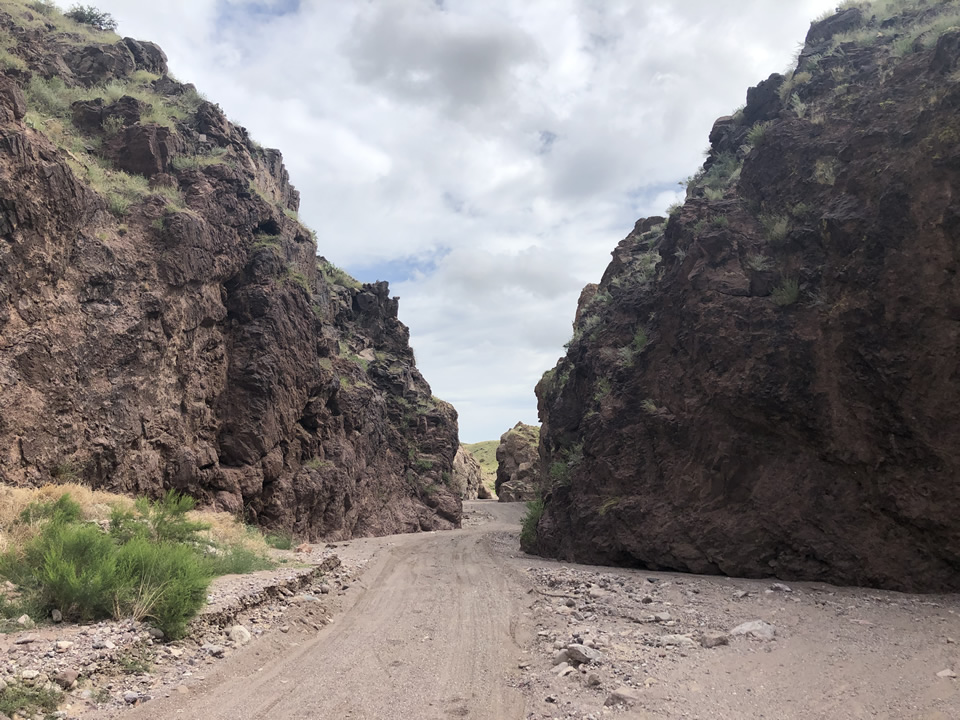 There is no denying that the geology in the Socorro region is fantastic, even if it may seem familiar to those of us who live here, and well-worth a third NMGS visit. The 2022 Fall Field Conference will showcase new mapping, geochronology, and other geologic studies that have occurred in the Socorro region since the 1983 Fall Field Conference. The array of rocks seen here include Proterozoic granites-gneisses, a complete Pennsylvanian-Permian section, Santa Fe Group deposits from all stages of rift deposition, and an intriguing set of post-Santa Fe Group terraces. Structures associated with the Laramide orogeny and rifting are also nicely exposed in the Socorro area. 
Mark your calendars and join us as we explore Socorro geology on September 29-October 1, with an optional pre-meeting field trip (limited to 25 people and involving strenuous hiking) to the Little San Pascual Mountains on September 28.  The field trip will be hosted from the city of Socorro, which has a nice variety of lodging options.
Guidebook
We have 20-25 papers planned for the guidebook that showcase Socorro-area research. Topics for these papers range from sedimentary-stratigraphic studies of the Santa Fe Group and late Paleozoic strata, ore deposits, fossils, hydrogeology, and geophysics. If you would like to contribute a minipaper (1 figure and a few pages of text), please contact Dan Koning (Dan.Koning@nmt.edu). Minipaper deadlines are March 1. For regular-length papers, the deadline for pre-review paper submissions is February 7, 2022. Please follow our Instructions for Authors.
Itinerary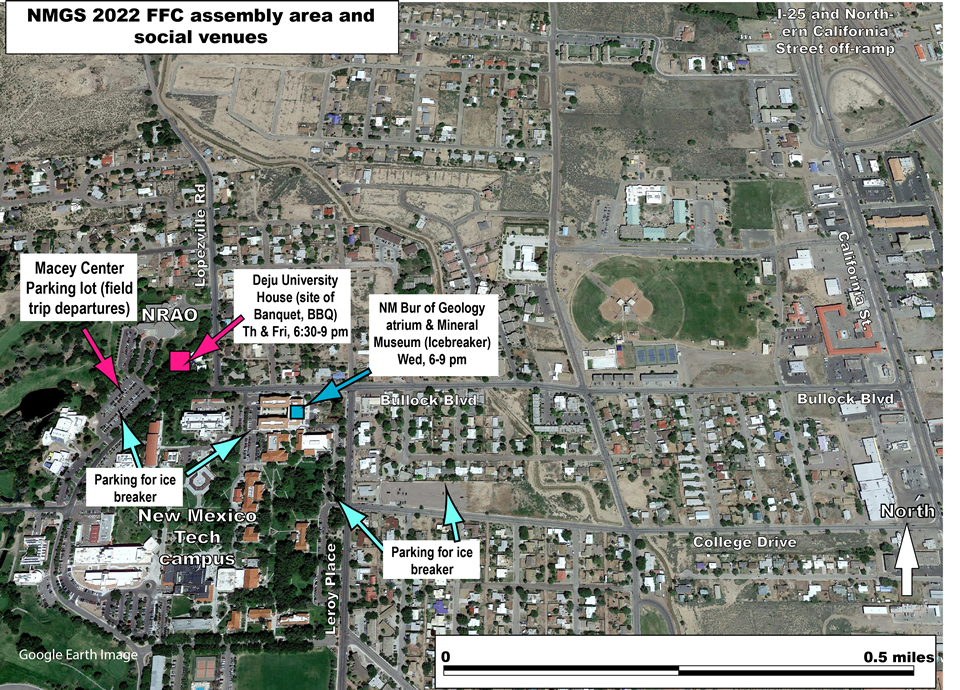 Logistics
Note that the banquet will be held on Thursday night and the Bar-B-Q on Friday night. We plan to give folks some time to go back to their hotels before the banquet on Thursday, but on Friday the Bar-B-Q will start right after we return to the Macey Center parking lot. Vehicles would be at full-capacity. We ask that people wear masks in the vehicles at the request of anyone in the vehicle, so please bring masks along.
The assembly area for each day (including the pre-meeting trip) is at the Macey Center parking lot — the same place you park for the Spring Meeting. Please bring hiking boots, sunscreen, hat, and a light jacket. The weather is supposed to be sunny, with highs in the low 80s (°F) and lows in the mid 50s. Here are the logistical details for each day:
Sep. 28: Pre-meeting trip (pre-registration required). Meet at 6:00-6:15 am, leave at 6:30 am. Return ~5 pm. Sack lunch is provided but you need to bring your own water. Participants definitely need to wear hiking boots with good tread, have a backpack, bring at least 3 quarts of water, have a hat, and bring some snacks.
Ice-breaker: 6-9 pm at the New Mexico Bureau of Geology and Mineral Resources atrium (Headen Building), Mineral Museum and Publications Bookstore
Sep 29: Field trip to Quebradas. Meet at 7:00-7:15 am, leave promply at 7:30 am. Return at ~6 pm. Lunch is provided.
Banquet: 6:30-9:30 pm (maybe 6:45-9:30 if we arrive back a little late) at the Raul and Shari Deju university house (where the big trees are at the northeast side of Macey Center parking lot, east of the NRAO building).
Sep 30: Field trip to Chupadera Mountains. Meet at 7:00-7:15 am, leave promply at 7:30 am. Return at ~6:30 pm. Lunch is provided.
Bar-B-Q: 6:30-9:00 pm at the Raul and Shari Deju university house (where the big trees are at the northeast side of Macey Center parking lot, east of NRAO building).
October 1: Field trip to San Lorenzo Canyon. Meet at 7:00-7:15 am, leave promply at 7:30 am, return to Macey Center Parking lot at 2-3 pm. Sorry, we cannot allow private vehicles to San Lorenzo Canyon due to parking space considerations. Lunch is provided.
See you in a few days!
Fall Field Conference Organizers:
Dan Koning
Richard Chamberlin
Susan Lucas Kamat
John Nelson
Scott Elrick
Descriptions
Pre-meeting trip (September 28): Little San Pascual Mountains – As an optional pre-meeting trip, we will the Little San Pascual Mountains, located 23 miles south of Socorro in the eastern Bosque de Apache Wildlife Refuge. These mountains offer wonderful exposures of late Paleozoic strata deformed by both the Laramide orogeny and rift-related extension. We will also visit Santa Fe Group and Baca Formation exposures on the western flank of the Little San Pascual Mountains, which offer clues of the Cenozoic uplift history of this fascinating little mountain range.  
This hike will be over very rugged terrain and should only be attempted by experienced hikers that are in excellent shape.
Day 1 (September 29): Quebradas region east of Socorro – The Quebradas hills are spectacularly exposed and easy to access from Socorro. There, we will acquaint ourselves with the late Paleozoic stratigraphy and learn how to interpret various fault-related folds. We will also discuss low-angle detachment faults (nicely delineated in the about-to-be-released Quebradas compilation map of Steve Cather), Laramide structures, and the nature of the geologic structure along the eastern margin of the Socorro basin. Two stops will feature middle-late Quaternary terrace evolution (Sion et al., 2021) and bedload-sediment monitoring of Arroyo de Los Piños.
Day 2 (September 30): Chupadera Hills south-southwest of Socorro – The geology here is some of the most complex you will see in New Mexico, and we thankfully have the detailed mapping of Richard Chamberlin and Ted Eggleston – along with precise age determinations from the NM Bureau of Geology Geochronology Lab -- to make sense of it. Near the Box Canyon, Richard will expound on the tilt reversal across the Socorro Accommodation zone and the early Oligocene volcanic history that can be deciphered here (involving two major calderas). We also observe outcrops altered by potassic metasomatism and mineralized by manganese precipitation, discuss their relative age control and cross-cutting relations, and ponder the paleo-groundwater regime in which they formed. Another intriguing topic is late Miocene through Quaternary paleogeography, the interpretation of which is aided by key volcanic strata, and how this relates to the evolution of the ancestral Rio Grande. Depending on road conditions, the trip will travel south from The Box and then down scenic Nogal Canyon to San Antonio.
Day 3 (October 1): Lemitar Mountains and San Lorenzo Canyon north of Socorro – How does the Earth's crust respond to extension and heat flow? We address this question using outcrops illustrating low-angle faulting, domino-block tilting, and relay-ramp structures. After visiting the Lemitar Mountains, we will drive up San Lorenzo Canyon. Here, we will stop at the much-photographed butte illustrating the Miocene-Quaternary angular unconformity before venturing up the spectacular narrows of the canyon.
Health
We require that everyone attending the conference be up to date on their vaccinations against COVID-19, according to the CDC. That currently means a one (J&J) or two-dose (Moderna/Pfizer/Novavex) primary vaccination series followed by all recommended booster(s) received at least two weeks before the conference. We will also follow any NM State health guidelines or mask mandates that are in effect during the conference.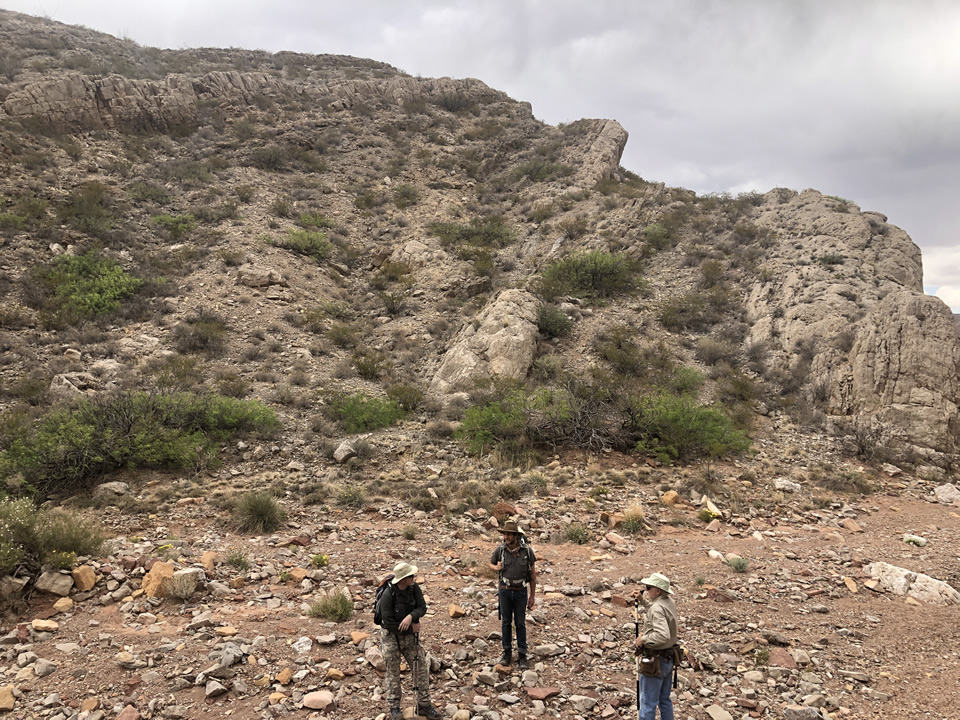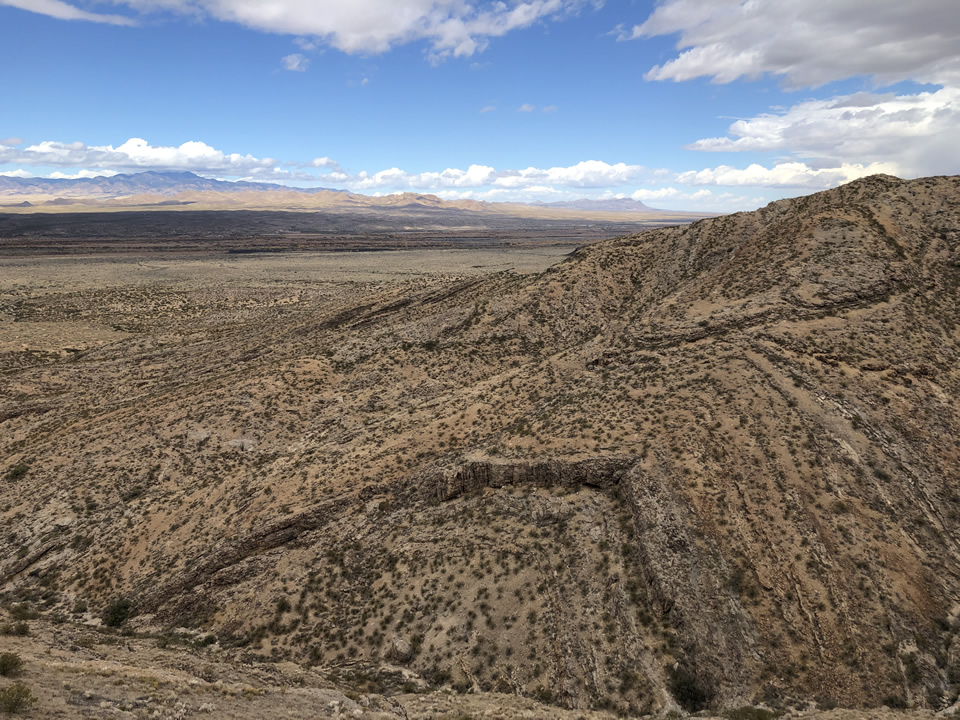 Future Conferences:
2023: Southeast New Mexico
2024: Albuquerque Area
2025: Eastern San Juan Basin
---
If you have an idea for a future field conference, please contact the President of the NMGS.
Photos From Past Fall Field Conferences
Everyone is invited to share their best digital photos of past conferences with the rest of the Society membership. Please contact the society webmaster via the 'comments' link below.