Notable New Mexico Geologists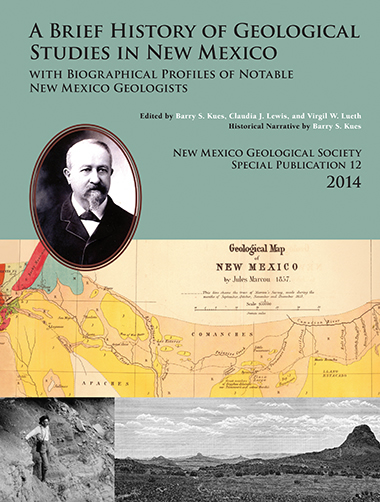 New Mexico has a long history of study by geologists. Some, like Jules Marcou and Clarence Dutton made significant geological observations while traveling through the area. Others, like Vincent Kelly, lived and worked in New Mexico for decades and published numerous widely cited papers and books.
NMGS Special Volume - 12: "A Brief History of Geological Studies in New Mexico With Biographical Profiles of Notable New Mexico Geologists" includes profiles deceased geoscientists that have made important advances in understanding the geology of New Mexico. However, there are a large number of geoscientists still with us that deserve recognition for their geological contributions in New Mexico. The society decided to honor these scientists by recording a living history of their lives and work.
About The Notable New Mexico Geologists (Online) Project
We aim to recognize the life and work of men and women whose work in New Mexico has contributed to various fields within Earth and planetary sciences, including (but not limited to) geology, geophysics, geochemistry, hydrology, environmental science, and mining. The project was launched by Steve Simpson's Science Writing class at the New Mexico Institute of Mining and Technology in Spring 2013. We welcome all with an interest in New Mexico geology to enjoy these profiles, to suggest noteworthy scientists and engineers for future profiles, and even to share their own stories about other scientists who have inspired them or have contributed to knowledge of our region.
If you would like to suggest a geoscientist for a future profile, or if you would like to contribute a profile to this project, please contact Barry Kues or Steve Simpson. Profiles may vary in length and format. We ask only that they be written for a non-specialist audience. We aim for these profiles to appeal not only to other geologists, but to students, school teachers, and others in the general public.
Acknowledgments
We would like to thank the following people for their input in the development of this project: Nelia Dunbar, Ginger McLemore, Adam Read, Barry Kues, and the Spring 2013 Science Writing class (Angelica, Sarah B., Maribel, Sarah H., Ivan, Qian, Lysandwr, and Suzanne)