New Mexico Geological Society
Special Publication - 11
The Geology of New Mexico - A Geologic History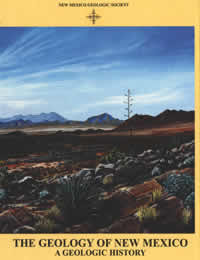 Greg H. Mack and Katherine A. Giles, eds, 2004, 474 pages.
In honor of its 50th anniversary in 1999, the New Mexico Geological Society is publishing separate volumes on the economic geology and the geologic history of the state. This volume, "Geology of New Mexico, A Geologic History," is organized chronologically according to the major depositional and tectonic events in the history of the state. These events and the author(s) of the corresponding chapters in this volume are shown on the facing page. In addition, the important role of geophysics in interpreting earth history is recognized by chapters involving paleomagnetism (Geissman) and geophysical constraints on crustal structure (Keller). We selected authors who are currently working or have recently worked on the rocks in their chapter, and asked them to provide current information regarding rock types, age and correlation, and paleogeographic/paleotectonic interpretations, as well as a comprehensive reference list. We also encouraged the authors, where appropriate, to explore opposing sides of controversial topics and to define areas of future research. Our ultimate goal was to produce a reference text for students and professionals that will be pertinent for the next decade or more.
Table of Contents available for download (892 kB PDF requires Acrobat 7.0 or later)