New Mexico Geological Society
Special Publication - 6
Tectonics and Mineral Resources of Southwestern North America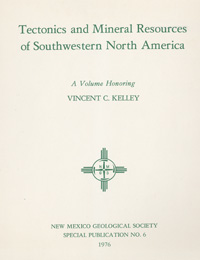 Lee A. Woodward and Stuart A. Northrop, eds, 1976, 218 pages.
This volume consists of articles contributed by the former students and colleagues of Vincent C. Kelley at the University of New Mexico. The title "Tectonics and Mineral Resources of Southwestern North America" is not intended to imply a comprehensive coverage of these topics, but rather to reflect the interests of Professor Kelley and his students. A glance at the table of contents reveals several articles that clearly do not concern tectonics nor mineral resources; these papers are authored by Kelley's colleagues and indicate the scope of the scientific activities at the institution that he has been associated with for nearly 40 years. His efforts and contributions have been instrumental in the growth and development of the Department of Geology at the University of New Mexico. Those of us who have had the opportunity to work and study with Vincent Kelley have profited immensely from that association. It is fitting that the New Mexico Geological Society should publish these articles honoring Vincent Kelley, as he was one of the founders of the Society and has been deeply involved in many of the field conferences sponsored by the NMGS. Publication of this volume is made possible by grants from Amoco Foundation, Atlantic Richfield Company, Aztec Oil and Gas Company, Cities Service Foundation, and Tenneco Foundation. Their generous contributions partially defrayed the printing costs.
Table of Contents available for download (481 kB PDF requires Acrobat 7.0 or later)