New Mexico Geological Society
Fall Field Conference Guidebook - 1
San Juan Basin, New Mexico and Colorado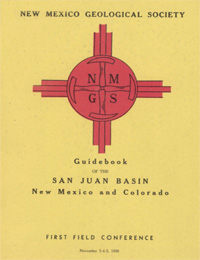 Vincent C. Kelley, Edward C. Beaumont and Caswell Silver, eds, 1950, 152 pages. (Reprinted 1996)
The San Juan Basin is located mostly in northwestern New Mexico where it embraces all of San Juan County, and parts of McKinley, Rio Arriba, Sandoval, Valencia, and Bernalillo counties. Most of the north rim of the basin is in Colorado where it occupies parts of Archuleta, La Plata, Montezuma, Hinsdale and Mineral counties. A narrow part of the west rim extends into Apache County, Arizona. The area of San Juan Basin is irregularly circular and includes 15-20 thousand square miles. On the first day we will examine a portion of the Rio Grande Valley, the Sierra Nacimiento, the San Juan Basin, the Chama Basin, and the Archuleta anticlinorium to view a great diverstiy of geologic features. The second day will address problems of Cretaceous stratigraphy along the north side of the San Juan Basion and review the structure of the basin rim. The third day will view the stratigraphy and structure between Durango, Colorado and Molas Lake, high in the San Juan Mountains.

CD or DVD-ROM format
Table of Contents:
Note —Downloads of the papers below are free. Road logs mini-papers, maps, and other sections are only available in print.
Papers:

Note — To download papers from this guidebook, you will need a PDF viewer like the free Adobe Acrobat Reader.