New Mexico Geological Society
Fall Field Conference Guidebook - 18
Defiance-Zuni-Mt. Taylor Region, Arizona and New Mexico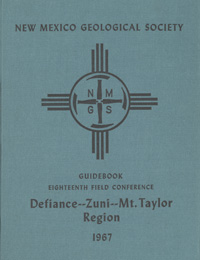 Frederick D. Trauger, ed., 1967, 228 pages.
The Eighteenth Annual Field Conference of the New Mexico Geological Society will visit three areas of distinct economic importance in northwestern New Mexico and northeastern Arizona, where the surface exposures of geologic features are unsurpassed and the beauty of the scenery unequalled. The Dinch bi Keyah oil field is one of the most important oil discoveries in the western United States in recent years and it is unique in that the oil is produced from a sanadine-rich syenite sill. The spectacular increase in the demand for uranium as a power source has focused the attention of the nuclear power industry on the Gallup- Grants-Laguna area where over 41 percent of the nation's uranium ore reserves are located. In addition, the recently increased industrial demand for domestic fluorspar has brought new interest to the deposits in the Zuni Mountains. The first day road log is from Gallup north through the Chuska Mountains and return via Window Rock, Lukachukai, and Sheep Springs. The second day road log is from Gallup through the Zuni Mountains to Thoreau and return to Gallup via Smith Lake, Mariano Lake and Pinedale. The third day road log is from Fort Wingate to Bibo via Prewitt, Ambrosia Lake, Milan, Grants, Laguna, and Paguate.
Table of Contents:
Note —Downloads of the papers below are free. Road logs, mini-papers, and some other sections of recent guidebooks are only available in print.
Front Matter: (includes Dedication, President's Message, & Conference Organizer's Message)
Download (1.68 MB PDF)
Roadlogs: (each includes listed mini-papers)
Papers:
---
Recommended Guidebook Citation:
Trauger, F. D.; [ed.], 1967, Defiance, Zuni, Mt. Taylor Region (Arizona and New Mexico), New Mexico Geological Society, Guidebook, 18th Annual Field Conference, 228 pp. https://doi.org/10.56577/FFC-18