New Mexico Geological Society
Fall Field Conference Guidebook - 24
Monument Valley and Vicinity, Arizona and Utah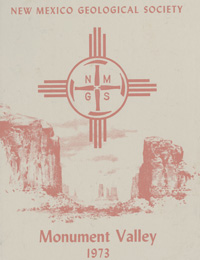 H. L. James, ed, 1973, 232 pages.
"My first view of Monument Valley was in the light of a setting sun. The monuments and spires were tall, regal fingers of burnished sandstone, almost ghostly in appearance, and the shadows they cast were long, long shadows, so long they seemed to flow off the very edges of the earth. The scene was unreal, strange and unearthly. It would not have been surprising to the beholder to see a dinosaur or some other prehistoric monster come hobbling along scratching his back on the towering spires, but the only movement on that vast panorama of slick rock, sky, sand and silence was a shepherd and his flock moving slowly toward some hidden hogan." Raymond Carlson, Editor Emeritus Arizona Highways.
The first day road log is from Farmington, New Mexico to Kayenta, Arizona, via Shiprock, Four Corners, Aneth, Bluff, Cedar Mesa, Goosenecks and Mexican Hat.The second day road log is from Kayenta, Arizona to Black Mesa and Navajo National Monument. There is also a separate road log for the trip into Monument Valley. The third day road log is from Kayenta, Arizona to Gallup, New Mexico via Dinnehotso, Rock Point, Round Rock, Many Farms, Chinle, Canyon de Chelly, Ganado, St. Michaels, Hunters Point and Lupton.
Table of Contents:
Note —Downloads of the papers below are free. Road logs, mini-papers, and some other sections of recent guidebooks are only available in print.
Front Matter: (includes Dedication, President's Message, & Conference Organizer's Message)
Download (1.54 MB PDF)
Roadlogs: (each includes listed mini-papers)
Papers:
---
Recommended Guidebook Citation:
James, H. L.; [ed.], 1973, Monument Valley (Arizona, Utah and New Mexico), New Mexico Geological Society, Guidebook, 24th Annual Field Conference, 232 pp. https://doi.org/10.56577/FFC-24