New Mexico Geological Society
Fall Field Conference Guidebook–59
Geology of the Gila Wilderness-Silver City area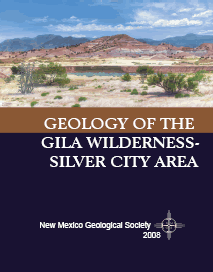 Greg Mack, James Witcher, Virgil W. Lueth, 2008, 210 pages
The Gila Wilderness region of southwestern New Mexico is spectacular in both scenery and geologic features. Its locaton on the boundary of the Mogollon-Datil volcanic field while straddling the boundaries between the Basin and Range, southern Rio Grande rift, and Mogollon Slope results in rock exposures that span a vast range of geologic time. Some of the largest ore deposits in New Mexico are located here that contribute significantly to the economy of the Silver City area. Over twelve research papers and twelve minipapers document the latest discoveries over diverse subjects ranging from magmatism both 1.5 billion years ago and during the formation of the Mogollon-Datil volcanic field, ore deposit formation, waterresources, and soil utilization by the Mogollon cultures. Sixteen color plates help to illustrate the geological complexity of this enchanting area of New Mexico.
There are two versions of this guidebook available — the complete guidebook (210 pages), and a version with just the road logs that is spiral bound (76 pages).
Table of Contents:
Note —Downloads of the papers below are free. Road logs, mini-papers, and some other sections of recent guidebooks are only available in print.
Front Matter: (includes Dedication, President's Message, & Conference Organizer's Message)
Download (3.03 MB PDF)
Roadlogs: (each includes listed mini-papers)
Mini-papers:
Mini-papers:
Mini-papers:
Papers:
---
Recommended Guidebook Citation:
Mack, Greg, Witcher, James, Lueth, Virgil W.; [eds.], 2008, Geology of the Gila Wilderness-Silver City area, New Mexico Geological Society, Guidebook, 59th Annual Field Conference, 210 pp. ISBN: 9781585460939 https://doi.org/10.56577/FFC-59