New Mexico Geological Society
Fall Field Conference Guidebook - 9
Black Mesa Basin, Northeastern Arizona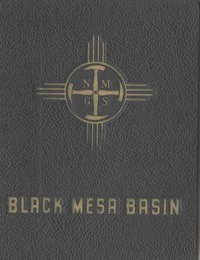 Roger Y. Anderson and John W. Harshbarger, eds., 1958, 205 pages.
This ninth annual field conference is the first major excursion into the Black Mesa Basin. The conference is a joint venture between the New Mexico and Arizona societies. The first day, from Gallup to Holbrook, will reveal the structure of the Defiance uplift and monocline and the stratigraphy of the southeastern part of the basin. On the second day, from Holbrook to Flagstaff, the conference will enter the Black Mesa Basin and traverse volcanic fields, Pliocene lake beds, diatremes, and areas of ancient Indian cultures. On the third day, the conference will take a circuitous route through the San Francisco volcanic field to the Grand Canyon and reveal such features as Sunset Crater, the Cameron mining district, Marble Canyon, Glen Canyon, and the structural complexities along the western side of the basin. Finally an overnight trip into the Grand Canyon via the Kaibab Trail is available at the end of the third day.
Table of Contents:
Note —Downloads of the papers below are free. Road logs mini-papers, maps, and other sections are only available in print.
Papers:

Note — To download papers from this guidebook, you will need a PDF viewer like the free Adobe Acrobat Reader.