Fort Union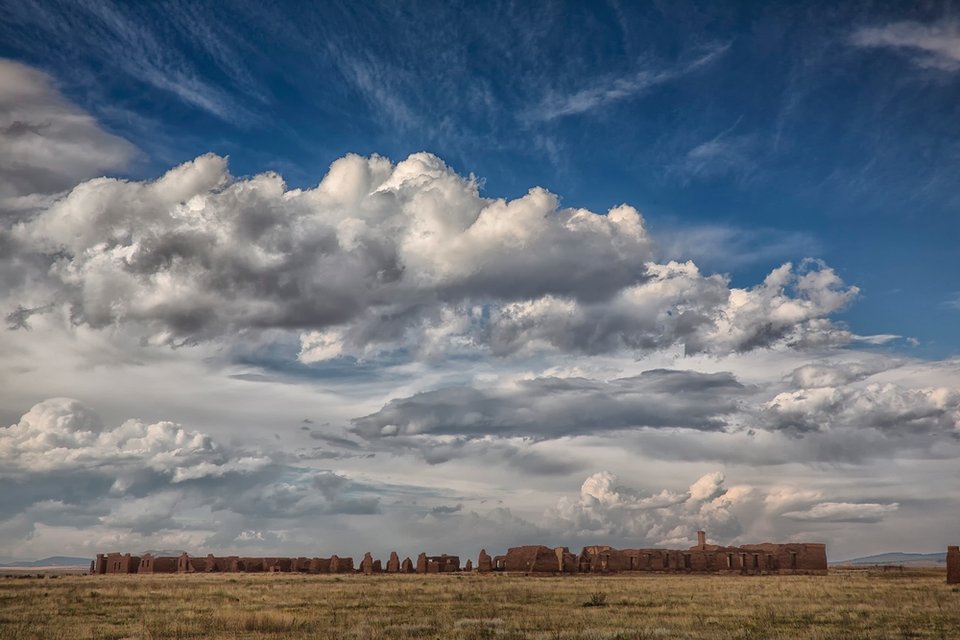 Image taken: 10/02/2015
by:
Mark Betts
© 2015
Longitude: -105.0131863
Latitude: 35.9074812
(WGS 84 or NAD 83)
About this image
One of the field stops on the New Mexico Geological Society's 2015 Fall Field Conference was the Fort Union National Monument.
Fort Union sat astride the famous Santa Fe Trail where the two routes of the trail converged (or split depending on your direction of travel). It is located just outside of Las Vegas, New Mexico on the high plains.
Fort Union was very important to the forts of the southwest. All of the Army's supplies for all of the forts in the southwest came through Fort Union because it was on the trail. These supplies came by wagon train and the fort had to care for all of the livestock. It covers a huge area. Ironically, like the Cliff Dwellings at Mesa Verde, it was active for only a short period of time. It started to shrink as soon as the famous Santa Fe railroad was completed down to Las Vegas and beyond to Santa Fe.
Many picture the forts as the log stockades we see in the movies but the actual forts were a series of buildings arranged around a large multi-use parade ground.
These sentinels on the prairie are just a portion of the remains of adobe buildings slowly dissolving back into the high plains in this huge fort. The National Park service is now stabilizing these adobe remains and preserving them for the future.
[See more information related to this image...]
Location
Fort Union National Monument
Image posted: 02-12-2021