Profiles of Notable New Mexico Geologists
Robert (Bob) Eveleth:
Born: 1943, Brighton, Massachusetts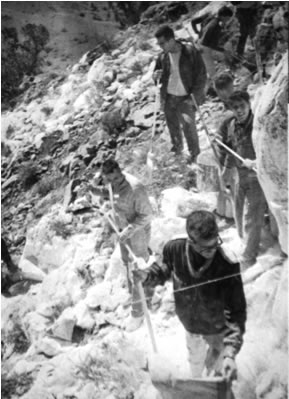 Bob Eveleth is a Miner, a 49er, an engineer, a bartender, and a historian.  A 1969 graduate from New Mexico Institute of Mining and Technology (formerly New Mexico School of Mines), he still uses his extensive mining experience and solid geologic knowledge of ores in New Mexico to defeat shady entrepreneurs out to make money from less-informed citizens.  For over twenty years he has researched and documented New Mexico history relating to mining, the city of Socorro, and the School of Mines.  He has been with the Bureau of Geology and Mineral Resources for over 35 years and remains their Senior Mining Engineer, specializing in Mining Technology, Mining Law, and Mining History.
"Boy, have you got the wrong guy!"  When asked if he'd allow an interview for a profile on him as someone who'd impacted New Mexico geology and mining, Bob Eveleth chuckled in response.  Jovially self-deprecating, Mr. Eveleth insists he isn't anyone significant – but he can sure tell you about the people who are. He is a mining engineer and a historian.  Perhaps this should be considered his great impact: Bob Eveleth has written a library of books and journal articles about the history and persons who made New Mexico mining and geology.  He is thanked and acknowledged for his contribution in many more books, papers, and articles.  For many, he is the 'memory' of New Mexico's earth and what man has pulled from it.
For New Mexico Tech students and staff, Bob Eveleth is the man who knows about the important stuff:  how the school began, bartending at Socorro's most historically significant bar, and the real reason behind why Mining remains in the university name (although few refer to it as other than New Mexico Tech or Tech.)   He has more to share about why we keep mineral specimens—"archiving mineral specimens preserves our rich mining history," Bob comments. "Saving minerals brings it all to life. A story lies within every stone."'  He is a living archive, to explain the specimens and put them in context…to tell the stories of every stone.
Bob arrived at Socorro and the New Mexico Institute of Mining and Technology along with ten other entering students in September 1963, in a local passenger train known as the "Doodlebug" by hardy Socorrans who'd experienced its irregular diesel journey over the rails of Atchison, Topeka, & Santa Fe. He eventually graduated with a Bachelor of Science in Mining Engineering in 1969, part of the fine New Mexico Tech tradition of taking more than four years.  But his geological journey had actually begun many years before, in his youth.
Born in Brighton, Massachusetts, Bob was raised much of the time on his grandparents' farm in Gloucester, Maine.  At age thirteen, he was amongst a very fortunate group of children in Brighton who met an adjunct professor of mineralogy at Harvard.  Dr. Allan Sanberg took the youngsters under his wing—"he knew the east coast like the back of his hand, and at that time you could put a nickel in the MTA and ride forever. "
Dr. Sanberg took them to quarry sites as well as the back doors of various geology departments.   "Best collecting sites in the world!" laughs Eveleth.   For when specimens were trimmed, the kids could pick up trilobites, wulfenite, and other treasures discarded on the rock piles of various universities' Geology and Paleontology departments.
 Bob's father was a manufacturing engineer with General Electric in their jet engines division, and pushed for him to choose a career in metals.   "My dad, of course, encouraged me to go—mainly just GO—but go to school, into metallurgy, because he worked with metal.  But I decided I didn't want to wear a lab coat for the rest of my days.  Because that was what metallurgy was in those days, especially extraction.  …I decided mining engineer was more romantic; I could get out and meet a variety of people.  And it was, it did—turned out it was a good career choice, for me anyway."
During his teen years, Bob had traveled to other states, and kept gathering rocks.  When it came time to go to school, he looked at good engineering universities in those states:  he liked ASU and UTEP, and he especially liked the Colorado School of Mines.  Unfortunately, CSM was much too expensive for an out of state student with no financial aid.  And then there was the New Mexico School of Mines, which had just added Institute of Technology to the name.
People had been trying to drop Mines out of the university name for some time, Bob points out.  He recounts that University President E.J. 'Jack' Workman wanted to change the name from School of Mines to simply the New Mexico Institute of Technology, supposedly because he was a graduate of MIT.  But if the word MINES came out of the name completely, the land grant would revert back to the families who initially gave it to the state!  
Other Tech presidents have since made further attempts to change the name, but evidently attorneys who've looked at the original document state that, yes, the property would have to be returned—complete with all of the improvements (buildings and all.)  So the full name will remain New Mexico Institute of Mining and Technology, and the original families will have to do without the golf course, swimming pool, and laboratories.
Financial aid was non-existent for Bob, and his family couldn't help, so he used all of his saved money in the first two years of school.  Having looked at his options, he took the best paying job he could find:  bartender at Tech student favorite, The Capitol Bar.
Even this experience ultimately became fodder for the future historian, as the Emilio family who owned the bar during prohibition supposedly had insider knowledge when the 19th amendment would be repealed.  With their paperwork all ready and submitted immediately upon repeal, they allegedly acquired the first liquor license issued after prohibition.  The bar today operates under oldest continual license in New Mexico—at least according to the state's liquor control board.
 Unfortunately, working nights at the bar and going to seven a.m. math classes meant no sleep and no time for studying.  When he was in danger of failing, his professors told him to "go work for a while, save your money back up again".
This succinct advice turned out to be easy to follow.  Bob dropped out and went into the mining industry at Leadville, Colorado.  But as a blue-collar miner—drilling, blasting, and doing all the dirty work at a giant molybdenum mine for a year.  This was valuable experience rarely enjoyed by engineering students today, Bob points out.  The digital age has changed everything, and engineers and geologists do most of their work on computer these days.
In school, there was also a lot of geology in the mining curriculum, championed by Dr. Gerald Ugene 'Gug' Green, a mineralogy professor and 1924 Tech graduate.   Mining engineers went on many field trips.  And when the university was the School of Mines prior to the 1930s, field work was the largest part of the curriculum. This emphasis was probably due in part to the large mining district 25 miles away in Magdalena, NM.
Mining companies in Magdalena regularly hosted summer field camps, and Dr. John Weir, who taught civil engineering at the time, was also an adjunct working for Ozark Mining Company.  He did their surveying and kept up their maps (his maps are a sight to behold, Bob mentions) and students assisted him in all of this work.  The field camp tradition carried into 50s, 60s, and even somewhat into the 70s.
Because mining engineers needed to learn from ground up, mining as an economic element drove acquiring geologic knowledge.  Engineers needed to know enough about the milling process to help geologists to identify ore/not ore, and they needed to know when they were looking at waste rock with no need to sample other than routine analysis over entire ore body.  Field camp experience and, in Bob's case, actual work experience helped mining engineers learn to quickly differentiate waste rock and economically valuable ore as much as possible by eye.   
Bob came back to Tech after his year at Leadville, but still didn't have enough funds.  With the help of Dr. Gug Green, he received a small student loan and a job in Bureau's metallurgy lab (lab coat and all), where he learned all the laboratory methods for identifying specimens that are so important to mining.  He performed flotation tests, and used frothing and suppressing agents.  Eveleth gained valuable experience in what he terms almost lost arts, by running screen analyses, doing specific gravity tests, and performing fire assaying.   "I was very fortunate in that regard…Dr. Green; he was a champion for hands on work experience."
Fire assaying, rarely performed today, was the method of choice in determining the high value content of base metal ores.  It was (and occasionally still is) used most often to determine the gold and/or silver content.  Mineralogists grind up the ore sample, mix it with reagents, and let it cool.  The resulting pellet is oxidized in the assay furnace, where lesser metals oxidize off to leave silver or gold.  Since citric acid dissolves silver but not gold, you can continue to refine and determine the gold to silver ratio  These ratios make all the difference when deciding if ore is worth mining—the ore per unit value tells companies what grade of ore they can mine at a profit.
Mining companies need to select the ore from an identified ore body that exceeds the 'cutoff grade' to make money—especially for the stockholders.  Fire assaying in particular is referred to as a lost art because the process most commonly used now is atomic absorption spectroscopy.  High-tech, but with built in risks for correctly identifying and assaying precious and noble metals such as gold and platinum.  When looking at absorption spectra, the careful mineralogist finds that absorption spectra wavelengths from other, common metals overlay the more precious metals.
This can be used by deceptive brokers, who show spectroscopic reports of iron and calcium because they have big spectra lines that overlay platinum group metals.  These 'con artists' claim the ore body report displays  platinum continents reaching 15, 20 oz. per ton….when the richest known platinum mines in the world are returning ¼ oz. per ton.
These devious souls also report the truly rare metals iridium, rhodium, and osmium …that they see those at 15, 20 oz. per ton…"well, maybe on the planet Mercury!" grimaces Bob.  He is always pleased to look over such reports and point out that the results are extremely unlikely.
Bob brings his geologic knowledge into play here as well.  In New Mexico—as in much of the Southwest—one can very accurately assess whether ore is likely to contain platinum group metals based on the geology, because platinum is so very finicky as to the types of rocks that it likes to form in and the magmas that bring it up from the core.  Platinum associates with the ultramafics, thus it is not generally found in limestone.  Occasionally, one might find a maverick deposit that formed and later moved.  "So if you can't find associated ultramafics nearby, you can expect you won't find platinum" Bob states.
Thus platinum is extremely rare throughout the southwest, and there are no economically workable deposits in this part of the country.  Snips have been uncovered in Arizona, and what appeared to be a significant find in New Mexico turned out, upon close examination, to be a false alarm.  The only platinum actually found in New Mexico is that from the Glorietta meteorite.
But prospector after prospector would come in to the Bureau, saying they had gold and platinum.  When Bob asked what made them think that they had made such a find, they inevitably replied "well, I have these little metal filings that won't dissolve in acid!"  Here he had to give them the bad news that it was magnetite, which also won't dissolve in their acid reagent.  "Sorry to pop their bubble," says Bob.
After graduation, Bob married –he had met his wife, unsurprisingly, at Tech, where her father Dr. Langdon Tayler was Professor of Petroleum.  Now supporting a family, he had to obtain his first post-university job and found it at a small lead/silver/gold mining company in Silverton, Colorado.  This was hard-core, hard rock mining, with narrow veins, and he wore multiple hard hats.  He was the design engineer, the safety engineer, and the mining engineer.  Here his previous experience, combined with his Tech training, gave him the skills needed:  he knew mechanical drawing, he was expert in mine map construction, and he knew the safety requirements.
Bob worked for the Dixieland mining company in Colorado for two years.  An oil company out of Odessa Texas that had gotten the gold bug, in the end Dixieland "lost their shorts" Bob remembers.  "…there were good mines in area, they just didn't get them."   Once again the Eveleth family moved to another mine.
In late 1971, Bob became chief mining engineer at the Santa Rita mine in Silver City, New Mexico, based on his experience—even though he'd graduated so recently.  He did it all there as well, at a mine twenty times the size of the mine in Silverton.  Santa Rita was a very large underground site, room and pillar mining rather than drilling for mineralized veins in limestone or contact deposits.  The ore body was in massive skarn deposits 25 to 30 feet thick, shallowly dipping, and extending hundreds of feet laterally.  The mining engineers had to understand rock mechanics for compressive strength, where the faults run, and whether or not high value ore was going to be left in a pillar because the pillar had to be there, or risk the whole thing coming down.
The company trusted the engineers, but there was serious trouble with management.  Bob learned how not to do things by observing a mine manager who, as Bob put it "would stomp on a rattlesnake to see if he could make it madder!"
He was at Santa Rita for six years.  Then, looking for a change of venue, Bob was recruited for a great sounding position with the United States Geological Service in Albuquerque.  Unfortunately, this was not with the exploration division as he had thought, but was in the conservation division.    He stayed there six months, going out to where drill rig had been and reporting on how they left the site.  If so much as a rag was left behind, Bob had to report it so the company would come back and clean it up….he quickly realized this was no good use of his extensive skill set.
The USGS did discover his diligence, knowledge, and good report writing ability.  They sent him to Espanola to investigate a sand and gravel operation for improper reporting.  This was how companies could avoid paying full royalties, and only worked when paperwork was done by hand.  Now that everything is computerized, including how trucks are tracked and weighed on the road, Bob points out such a scam is far more difficult.
In his USGS time, Bob examined a lot of properties and sent reports complete with solid sketch maps and photographs to the headquarters in Virginia.  These offices were stunned to get reports with actual information, written by people with solid field engineer knowledge.
But Bob wanted to get out and assess resources.  At that time, federal employment required that new employees be there a full year or repay moving expenses.  Bob was happy to escape at six months, and wrote them a check without hesitation.  Dr. Griswold rescued him once again, by letting him know the Bureau of Mining and Mineral Resources wanted a mining engineer—not a PhD, but someone with hands on experience to talk to miners and exploration geologists who walk through the door.
Calling the Bureau and then immediately driving down to Socorro enabled Bob to get his application in on the final week the position was open.  He was later told that thirty-six other people applied, and he was number thirty-seven.  But they selected him for the position in November 1977, and he's been with the Bureau (now the Bureau of Geology and Mineral Resources) ever since.
From the Bureau's point of view, Bob was a known quantity:  he had the experience they needed, and they knew he could take on new tasks.  So the Bureau put him on the Coal Mining Reclamation board to write up reports and inspect reseeding efforts in New Mexico.  As Bob puts it, he was a hard-rock mining engineer who didn't know the first thing about 4-wing salt bush—a plant used in reclamation to hold  down topsoil put back after the coal is removed.  But he studied reference books and had on the job training for three years until the Bureau finally got an actual coal geologist.
Then Bob was able to return to his specialties:  mining law and hard rock mining, public land surveys and staking mining claims, and designing drilling programs based upon geology in conjunction w/geologists.  Bob checked and located properties, mining claims, geo-mapping, and laboratory samples.  Small companies might not have their own geologist or mining engineer, and were dependent on the Bureau's assistance to develop their projects.
People came to the New Mexico Bureau of Mines and Mineral resources to get initial info on resource potential.  If a group of investors want to get into mining, the Bureau had people with an excellent grasp on potential and even unproven areas.  This public service was performed without using proprietary information, just what was publically available, and honed Bob's research skills as well.
During this time, Socorro county surveyor and School of Mines graduate Raymond Senn came to Bob with an interesting problem.  A family had group of claims on gypsum deposit in the way of highway widening between San Antonio and Carrizozo.  The state wasn't going to make full recompense for the value of these deposits.
When the Highway Department geologist's estimate seemed severely low, Ray and Bob double checked it with a planimetor, used to determine the area of an arbitrary two-dimensional shape.  The arm of this device measures the area of any shape traced around, no matter how the outline is shaped.  Simply by going through the geologic maps, they were able to come up with an amount nearly ten times larger than what the Highway Department geologist had erroneously estimated.  Everyone negotiated, and it all worked out.
He got to be the good guy, or (depending on your point of view) the bad guy to potential scam artists and shoddy promoters trying to put one over on hapless investors.  Bob would look the project over, look at numbers returned by the analytical laboratory, tell them point blank that they don't have a thing here and certainly didn't have any platinum.  His foundation in geology, his knowledge of New Mexico ores, and his extensive experience gave him that credibility, and he proudly displays a patch reading "Scam Busters".
Bob's research for the Bureau, on mining properties and districts, lead him into researching more general New Mexico and Socorro/Magdalena history.  His discovered that, especially prior to WW I, newspapers were a very informative prime source.  Using his personal experience and knowledge to flense through newspaper files, he saved a large morgue over the years.   Now he has a database on a myriad of related mining and geology topics, including the early history of the School of Mines.   He is a key source himself for many writers, and even gets the occasional call from Tech's library.
Bob's greatest concern now is that if he doesn't write up these reports and keep files of accurate data from the earliest, most accurate possible source, that information will be warped or completely lost.  His files contain a huge amount of data gathered pre-internet, from original sources, and he decries how much erroneous information is online today.
For example, online reports regarding the Kelley Mine and Magdalena district are rife with inaccuracies.  Bob refers to the story going around that the head frame on front of the Kelley mine shaft was designed and made by Eiffel, of the Eiffel tower...but the original reports of the head stamp state it was rolled at the Carnegie steel works, designed by Sam Trayler.  "Once something like that has made it into print, it is referenced in the future…the myth survives…and accurate information is replaced by false."
Bob is still the Senior Mining Engineer at New Mexico Bureau of Mining and Mineral Resources, specializing in Mining Technology, Mining Law, and Mining History.  He says frequently that "all miners are optimists."  In the face of vicious mine managers, historical myths reported as fact, and outright scam artists, Bob remains the ultimate optimist.  He aims to keep the story straight, one rocky claim at a time.
— Lysandwr McNary
Specialties:
Economic geology, Mining geology, Geometallurgy, Historical geology, Mineralogy, Structural geology
Keywords:
Mining law, mining engineering, mining geology, mining history, New Mexico School of Mines, New Mexico history,  New Mexico Bureau of Geology and Mineral Resources, New Mexico Bureau of Mining and Mineral Resources, Socorro history, Capital Bar, Magdalena history, gold, silver, platinum