New Mexico Geological Society
Fall Field Conference Guidebook - 16
Southwestern New Mexico II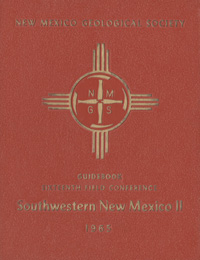 J. Paul Fitzsimmons and Christina L. Balk, eds., 1965, 244 pages.
The Sixteenth Field Conference will be confined to the Mexican Highland section of the Basin and Range province and the Datil section of the Colorado Plateau. The first day's caravan route starts in the Mexican Highland section, following the Rio Grande depression, with an excursion onto the Jornada del Muerto plain, into the Rincon-Palomas valley. After crossing a remnant of the Palomas basin surface, the Goodsight Mountains and the Nutt basin, the route traverses the southeastern prong of the Datil section from near Lake Valley to Dwyer in the Mimbres Valley. The route then continues to the City of Rocks and on to Silver City. Most of the second day will be spent in the Datil section in the Upper Gila and Mimbres River basins. In addition to the spectacular vistas of the plateaus, peaks and ranges of the Datil section, striking features seen on the first and second days of the conference will be the stepped sequence of geomorphic surfaces flanking the Rio Grande, the Mimbres and Gila rivers, and their tributaries. The third and final day will be spent in the Mexican Highland section in the southern New Mexico-Arizona border areas. The caravan will cross the Burro Mountains uplifts, the Lordsburg and Animas valleys (site of Pleistocene Lake Animas), the Peloncillo Range, and San Simon Valley. The conference will end on the east flanks of the Chiricahua Mountains in an area of classic Basin and Range geology and geomorphology.
Table of Contents:
Note —Downloads of the papers below are free. Road logs, mini-papers, and some other sections of recent guidebooks are only available in print.
Front Matter: (includes Dedication, President's Message, & Conference Organizer's Message)
Download (1.46 MB PDF)
Roadlogs: (each includes listed mini-papers)
Papers:
---
Recommended Guidebook Citation:
Fitzsimmons, J. P.; Balk, C. L.; [eds.], 1965, Southwestern New Mexico II, New Mexico Geological Society, Guidebook, 16th Annual Field Conference, 244 pp. https://doi.org/10.56577/FFC-16