New Mexico Geological Society
Fall Field Conference Guidebook - 19
San Juan-San Miguel-La Plata Region, New Mexico and Colorado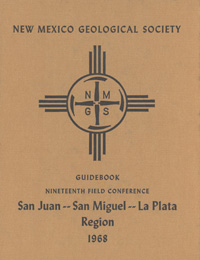 John W. Shomaker, ed., 1968, 212 pages.
According to a popular travel guide, "Colorado's San Juan Mountains and the adjacent San Miguel-La Plata Mountain region, with many peaks rising over 14,000 feet, is the closest thing to Switzerland this side of Europe and one of the most beautiful areas of the United States." One might add that the beauty of the region is, to a large degree, dependent upon tremendously interesting and spectacular geological relationships. The New Mexico Geological Society takes pleasure in welcoming you to its Nineteenth Annual Field Conference in this splendid blend of geology and scenery. The first day road log is from Farmington, New Mexico to Cortez, Colorado, via Four Corners Power Plant, La Plata Canyon, La Plata mining area and Mancos. The second day road log is from Cortez, Colorado to Ouray, Colorado via Dolores, Rico, Lizard Head Pass, Telluride, Placerville, Dallas Divide and Ridgeway. The third day road log is from Ouray, Colorado to Farmington, New Mexico via Silverton, Eureka, Durango, and Aztec.
Table of Contents:
Note —Downloads of the papers below are free. Road logs, mini-papers, and some other sections of recent guidebooks are only available in print.
Front Matter: (includes Dedication, President's Message, & Conference Organizer's Message)
Download (1.10 MB PDF)
Roadlogs: (each includes listed mini-papers)
Papers:
---
Recommended Guidebook Citation:
Shomaker, J. W.; [ed.], 1968, San Juan, San Miguel, La Plata Region (New Mexico and Colorado), New Mexico Geological Society, Guidebook, 19th Annual Field Conference, 212 pp. https://doi.org/10.56577/FFC-19