New Mexico Geological Society
Fall Field Conference Guidebook - 22
San Luis Basin (Colorado)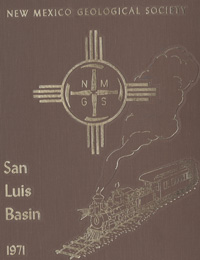 H. L. James, ed., 1971, 340 pages, reprinted 2001.
The 22nd annual field conference embraces the San Luis Basin and its highland environs. Most people refer to this agricultural gem as "San Luis Valley," but geologically it is one of the truly great intermontane structural basins of the Rocky Mountain-Southwest; bounded on the east by the uplifted Sangre de Cristo Range and hinged on the west by the volcanic heights of the San Juans. Its width is 50 miles; its length a surprising 150 miles, stretching from Poncha Pass on the north and inclusive of the Taos Plateau south into New Mexico. It is a beautiful expanse that is dotted with volcanoes, fertile farms and lush ranchlands. It is ribboned by a great river of history and set in the midst of Swiss-like mountains. Indeed, an interesting field for study. The first day road log is from Alamosa to the eastern San Juan Mountains, via Alamosa River, Jasper, Summitville, South Fork, and return. The trip will involve a circuitous route through the eastern San Juan Mountains. The second day road log is from Alamosa to the Great Sand Dunes National Monument, Poncha Pass, Salida, Howard, and return via Saguache, and Monte Vista. The geologic character of the San Luis Basin and the east flanking Sangre de Cristo Mountains will be examined. The third day road log follows the Cumbres and Toltec Scenic Railroad.
Table of Contents:
Note —Downloads of the papers below are free. Road logs, mini-papers, and some other sections of recent guidebooks are only available in print.
Front Matter: (includes Dedication, President's Message, & Conference Organizer's Message)
Download (2.65 MB PDF)
Roadlogs: (each includes listed mini-papers)
Papers:
---
Recommended Guidebook Citation:
James, H. L.; [ed.], 1971, San Luis Basin (Colorado), New Mexico Geological Society, Guidebook, 22nd Annual Field Conference, 340 pp. https://doi.org/10.56577/FFC-22