New Mexico Geological Society
Fall Field Conference Guidebook - 31
Trans Pecos Region (Southeastern New Mexico and West Texas)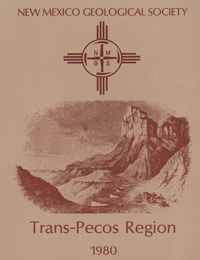 Patricia W. Dickerson, Jerry M. Hoffer and Jonathan F. Callender, eds, 1980, 308 pages.
The first day road log is from Van Horn to Guadalupe Mountains to the Duval Frasch sulphur operation in Culberson County to Seven Heart Gap and return to Van Horn. This trip leads northward from Van Horn along Salt Flat graben, nearly paralleling the steep fault-line scarp which forms the eastern boundary of Sierra Diablo, to the vicinity of El Capitan Peak at the south end of the Guadalupe Mountains; thence across the northern end of the Delaware Mountains and foothills developed on basinal sediments east and below the reef shelf-edge rocks of the main trend of the Guadalupe Mountains to the Texas-New Mexico boundary; thence eastward on Highway 652 across the Gypsum Plain and the Screwbean Hills to the Duval Corporation's sulphur mining operation in the Rustler Hills area. The second day road log is from Van Horn to Tumbledown Mountain, Hazel Mine, Southern Wylie Mountains and return to Van Horn. This trip will examine excellent exposures of the lower part of the Precambrian section of the Van Horn area, the Van Horn Sandstone and the Hazel and Allamoore formations. The trip leads across Red Valley along Hackberry Creek to Tumbledown Mountain, a western spur of Beach Mountain, and around Beach Mountain to the Hazel Mine. Of particular interest should be the extensive talc deposits in the Allamoore Formation and complex structures in the Tumbledown Mountain. The lower Paleozoic Bliss, El Paso and Montoya formations, and the Permian Hueco Limestone are well exposed in escarpments and fault blocks bounding Beach Mountain. The old Hazel Mine, located on the Hazel fracture zone, produced significant quantities of copper and silver in the late 1800's and early 1890's, and may be reopened in the near future. The third day road log is from Van Horn to Allamoore to Eagle Mountains to Quitman Mountains. This trip will examine some of the Precambrian Carrizo Mountain group rocks as exposed in road cuts along I-10 in the Gifford-Hill rock quarry in the northern Carrizo Mountains. We will see the type locality of the Texas Lineament and talc plants at Allamoore. In the Eagle Mountains, a resurgent caldron in and around which Precambrian, Permian and Cretaceous sediments, cauldron-facies volcanic rocks, and a large syenite intrusive body are well exposed. In the Quitman Gap area participants can view some of the complex structure of the Southern Quitman Mountains, the quartz monzonite ring dike which nearly encircles the Quitman Cauldron, and the intracauldron volcanic pile (Square Peak Volcanic Series).
Table of Contents:
Note —Downloads of the papers below are free. Road logs, mini-papers, and some other sections of recent guidebooks are only available in print.
Front Matter: (includes Dedication, President's Message, & Conference Organizer's Message)
Download (2.38 MB PDF)
Roadlogs: (each includes listed mini-papers)
Mini-papers:
Papers:
---
Recommended Guidebook Citation:
Dickerson, P. W.; Hoffer, J. M.; Callender, J. F.; [eds.], 1980, Trans Pecos Region (West Texas), New Mexico Geological Society, Guidebook, 31st Annual Field Conference, 308 pp. https://doi.org/10.56577/FFC-31