New Mexico Geological Society
Fall Field Conference Guidebook - 39
Cretaceous and Laramide Tectonic Evolution of Southwestern New Mexico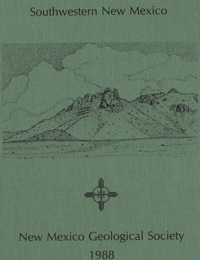 Greg H. Mack, Timothy F. Lawton and Spencer G. Lucas, eds, 1988, 216 pages.
On behalf of the Executive Committee and everyone who has contributed to this event, I wish to express my pleasure that you have elected to attend the thirty-ninth annual Fall Field Conference of the New Mexico Geological Society. I feel very confident that you will enjoy studying the geology of beautiful mountainous southwestern New Mexico during the three-day field symposium. Although the major emphasis of the conference will be on Cretaceous stratigraphy and Laramide tectonic evolution, a multitude of other geologic phenomena will be examined in road logs, technical papers, discussions and friendly disagreements. The first day focuses on the west flank of the Florida Mountains. The second day tour visits the northern end of the Little Hatchet Mountains, and the third day tours the north end of the Animas Mountains along the Continental Divide. There is also a supplemental road log from Hachita to Columbus and Deming.
Table of Contents:
Note —Downloads of the papers below are free. Road logs mini-papers, maps, and other sections are only available in print.
Mini-papers:

Mini-papers:

Papers:

Note — To download papers from this guidebook, you will need a PDF viewer like the free Adobe Acrobat Reader.