New Mexico Geological Society
Fall Field Conference Guidebook - 5
Southeastern New Mexico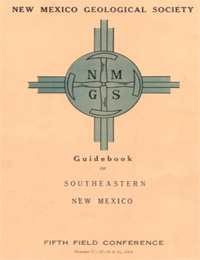 T. F. Stipp, ed, 1954, 209 pages, (Reprinted 1996).
The New Mexico Geological Society extends a cordial welcome to all participants in its Fifth Field Conference. Previous conferences sponsored by this society have traversed the San Juan Basin area of the north western corner of the State, the Rio Grande country of central New Mexico, and the basin and range province of the south western portion of the State. This excursion affords an opportunity to examine the structure and stratigraphy of the Sacramento-Guadalupe Mountains region of southeastern New Mexico. The Sacramento and Guadalupe Mountains have been the objective of previous field trips, but the classic exposures, complex structures and controversial stratigraphic relationships undoubtedly merit much more than the usual amount of attention. The Sacramento escarpment furnishes excellent outcrops of a section ranging in age from the pre-Cambrian to the middle Permian, while the Guadalupe Mountains and Delaware Basin offer exposures of the type upper Permian section for the North American Continent characterized by striking facies changes resulting from specialized conditions of sedimentation. Along the Barrera del Guadalupe the fabulous Carlsbad Caverns exist as a mecca for the speleologist. The Delaware Basin is yielding a huge tonnage of potash from the largest deposits in the world and is showing promise of becoming a major petroleum province. The first day road log is from Alamogordo to Alamo Canyon return to Alamogordo and then to Cloudcroft and on to Carlsbad. The second day road log is in the vicinity of the Guadalupe Mountains area, New Mexico and Texas. The third day road log is from Carlsbad to International Minerals and Chemical Corporation's Potash Mine. There is also an additional road log from Carlsbad to Carlsbad Caverns.
Table of Contents:
Note —Downloads of the papers below are free. Road logs, mini-papers, and some other sections of recent guidebooks are only available in print.
Front Matter: (includes Dedication, President's Message, & Conference Organizer's Message)
Download (589 KB PDF)
Roadlogs: (each includes listed mini-papers)
Papers:
---
Recommended Guidebook Citation:
Stipp, T. F.; [ed.], 1954, Southeastern New Mexico, New Mexico Geological Society, Guidebook, 5th Annual Field Conference, 209 pp. https://doi.org/10.56577/FFC-5