New Mexico Geological Society
Fall Field Conference Guidebook – 62
Geology of the Tusas Mountains and Ojo Caliente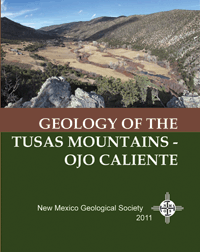 Daniel J. Koning, Karl E. Karlstrom, Shari A. Kelley, Virgil W. Lueth, Scott B. Aby, [editors], 2011,
418 pages.
The 2011 NMGS Fall Field Conference, based out of Espanola, traveled through the Tusas Mountains of north central New Mexico. Mesa de la Jarita was the focus of day 1 with stops focused on the Proterozoic igneous and metamorphic rocks with additional stops featuring Tertiary volcanic rocks of the area. Day 2 concentrated on the Tertiary rocks that lie directly on the Proterozoic in the Tres Piedras, Rio Tusas, and El Rito areas. Day 3 centered on the Ojo Caliente area with specialized field trips that concentrated on Proterozoic metamorphic rocks at Cerro Colorado, the Ojo Caliente tuff ring, La Madera traverines, and the Tertiary geology of the Arroyo Seco area. Nineteen research papers explore a wide variety of geologic subjects and 15 color plates help illustrate the geology of the field conference area.
There are two versions of this guidebook available — the complete guidebook (418 pages), and a version with just the road logs that is spiral bound (164 pages).
Table of Contents:
Note —Downloads of the papers below are free. Road logs, mini-papers, and some other sections of recent guidebooks are only available in print.
Roadlogs: (each includes listed mini-papers)
Mini-papers:
Mini-papers:
Mini-papers:
Papers:
---
Recommended Guidebook Citation:
Koning, Daniel J.; Karlstrom, Karl E.; Kelley, Shari A.; Lueth, Virgil W.; Aby, Scott B., 2011, Geology of the Tusas Mountains and Ojo Caliente, New Mexico Geological Society, Guidebook, 62nd Annual Field Conference, 418 pp. ISBN: 9781585460977