New Mexico Geological Society
Fall Field Conference Guidebook – 68
The Geology of the Ouray-Silverton Area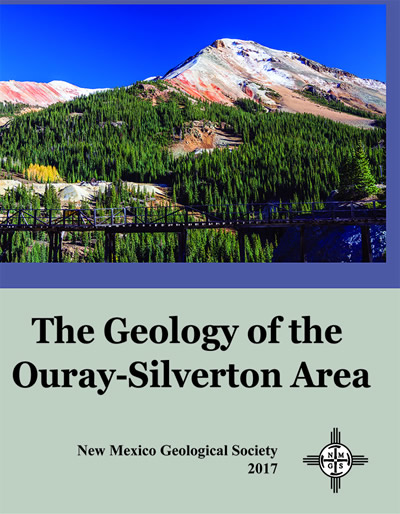 Karl E. Karlstrom, David A. Gonzales, Matthew J. Zimmerer, Matthew Heizler, and Dana S. Ulmer-Scholle, [editors]
2017, 219 pages.
The 2017 NMGS Fall Field Conference examines the geologic history exposed in the Ouray-Silverton area of southwestern Colorado. The diverse and extensive geologic record in this area reveals events that span nearly 2 billion years. Many aspects of the geologic record exposed here are similar to northern New Mexico, such that "across the border" comparisons are important for understanding regional geology. Past NMGS field conferences to the western San Juan Mountains were held in 1957 and 1968. This 2017 conference serves as a retrospective of geologic advances over this timeframe and a snapshot of future research directions. Proterozoic basement in the San Juan Mountains include 1.8-1.7 Ga metamorphic and igneous rocks of the Yavapai province, and the overlying Uncompahgre Group, both of which may have correlatives in northern New Mexico. Paleozoic and Mesozoic stratigraphic units of the San Juan Mountains are uplifted to 3-km elevations in a dome-shaped uplift that borders the northern San Juan basin where correlative units are as much as 3 km below sea level. In the Oligocene, caldera-forming rhyolite and dacite ignimbrite eruptions of the San Juan Volcanic Field formed a volcanic highland composed of an extensive volcaniclastic apron that extended across northern New Mexico. Young (post-15 Ma) uplift and magmatism in the San Juan Mountains continues to shape the topography. World class ore deposits of southwestern Colorado reflect the same range in ages observed in the uplift and magmatic history with Laramide, mid-Tertiary, and post-15 Ma components. Quaternary geomorphology involves glacial records and deep incision along the Animas and Uncompahgre rivers. TheSan Juan Mountains are the headwaters for radial rivers, the Rio Grande, Rio Chama, Rio San Juan, and Rio Dolores systems, and snowpack variations dramatically influence surface water supply for the Four Corners region. Human history involves early native populations, historic mining rushes, and present-day skiing and recreation communities.
There are two versions of this guidebook available, the complete guidebook (219 pages), and a version with just the road logs that is spiral bound (82 pages).
Table of Contents:
Note —Downloads of the papers below are free. Road logs, mini-papers, and some other sections of recent guidebooks are only available in print.
Roadlogs: (each includes listed mini-papers)
Papers:
---
Recommended Guidebook Citation:
Karlstrom, Karl E.; Gonzales, David A.; Zimmerer, Matthew J.; Heizler, Matthew; Ulmer-Scholle, Dana S., 2017, The Geology of the Ouray-Silverton Area, New Mexico Geological Society, Guidebook, 68th Annual Field Conference, 219 pp. ISBN: 978-1-58546-106-6 https://doi.org/10.56577/FFC-68