Photos from the 2002 White Sands Fall Field Conference: Day 3
All photographs approved for public release by White Sands Missile Range; distribution unlimited. OPSEC review completed on November 14, 2002.
The above statement should be used by any person that uses the photographs in presentations, articles, etc. in reference to the photographs. The photographs were taken by Dr. David L. Anderson, Environmental Stewardship Division.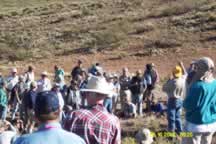 DCP 0842 - Virgil Lueth pointing out features of mineralization at the Memphis mine, Day 3.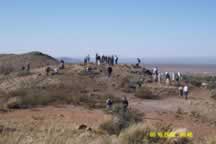 DCP 0843 – Participants examining mineralization along the Torpedo-Bennett fault zone at the Memphis mine.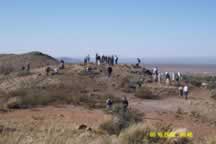 DCP 0844 – Remains of the Roos shaft at the Memphis mine.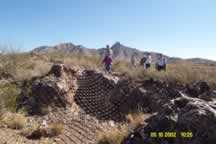 DCP 0845 – Another shaft on the Memphis property with safety netting.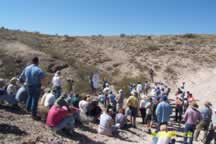 DCP 0846 – Participants gathered at the last stop of the field conference.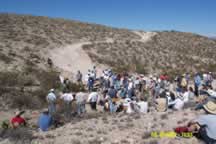 DCP 0847 – Virgil Lueth pointing out recent manganese mineralization at stop 3, day 3.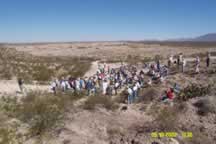 DCP 0848 – Photograph of ravel pits in Quaternary Camp Rice gravels that have produced proboscideans (elephants and their ilk). Photographer is standing on manganese mineralized Camp Rice Formation.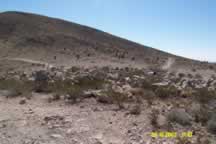 DCP 0849 – Paleozoic limestones of Tortugas Mountain (A – Mountain to NMSU Aggies).