New Mexico Geological Society
Fall Field Conference Guidebook - 30
Santa Fe Country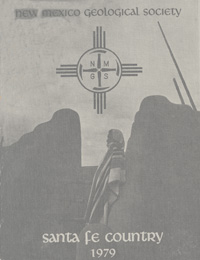 Raymond V. Ingersoll, Lee A. Woodward and H. L. James, eds. 1979, 310 pages.
Welcome to the Thirtieth consecutive Fall Field Conference of the New Mexico Geological Society. The first day road log is from Santa Fe to Ranchos de Taos via Pojoaque, Nambe, Cundiyo, Truchas and Penasco; with an extension to Rio Grande Gorge, Embudo and Espanola. The route for this field trip begins in Santa Fe, near the southeastern margin of the Espanola Basin, and leads northward through Tertiary sedimentary rocks and across the late Pleistocene surfaces to the eastern edge of Cundiyo. A visit will be made to the Harding mine and Precambrian rocks of the Picuris Range. The second day road log is from Santa Fe to Galisteo, Cerrillos, Madrid, Golden, Hagan and return to Santa Fe. This route leads southeast from Santa Fe in the Espanola Basin and crosses the sedimentary contact between the Ancha Formation and Precambrian crystalline rocks, marking the boundary between the Espanola Basin and the Sangre de Cristo uplift. Approaching Cerrillos we see the Cerrillos Hills, Ortiz Mountains and San Pedro Mountains, composed of mid-Tertiary intermediate igenous rocks that intrude strata ranging in age from Pennsylvanian to Tertiary. The third day road log is from Lamy Junction to Cowles via Glorieta, Pecos National Monument, Pecos, Terrero and Pecos Mine. This route visits the southern end of the Sangre de Cristo Mountains east of Santa Fe. Emphasis will be on Precambrian rocks and their ore deposits, upper Paleozoic stratigraphy, and structural complexities.
Table of Contents:
Note —Downloads of the papers below are free. Road logs, mini-papers, and some other sections of recent guidebooks are only available in print.
Front Matter: (includes Dedication, President's Message, & Conference Organizer's Message)
Download (1.41 MB PDF)
Roadlogs: (each includes listed mini-papers)
Papers:
---
Recommended Guidebook Citation:
Ingersoll, R. V. ; Woodward, L. A.; James, H. L.; [eds.], 1979, Santa Fe Country, New Mexico Geological Society, Guidebook, 30th Annual Field Conference, 310 pp. https://doi.org/10.56577/FFC-30