New Mexico Geological Society
Fall Field Conference Guidebook - 50
Albuquerque Geology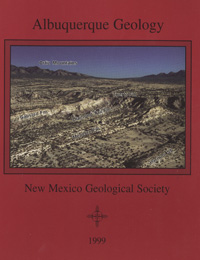 Frank. J. Pazzaglia and Spencer G. Lucas, eds., 1999, 448 pages.
Half a century ago a fledgling organization of geologists gathered to enjoy each other's company, share knowledge, and learn new insights against a backdrop of mountainous landscapes and clear, crisp autumn skies. Thus was inaugurated the annual excursions of the New Mexico Geological Society that became known as the Fall Field Conferences. Notably, these are conferences, not simply field trips. Presentations, discussions and, sometimes, heated arguments unfold on the outcrop or at scenic overlooks, a far cry from the stale darkened rooms of our typical professional meetings! As the Society celebrates its 50th field conference, its members relish the reputation of the conferences themselves and, especially, the legacy of the guidebooks, both of which are the envy of geological societies across the country. For our golden field conference we assemble, for the third time, near the geographic center of the state and in the midst of its largest population center. Here, the principal physiographic elements of our region - Rocky Mountains, Basin and Range, Colorado Plateau, and High Plains - intersect. The first day road log begins in Albuquerque and travels to Placitas, Hagan Basin and Espinosa Ridge to reconstruct the geologic, structural, geomorphic, and paleoclimatic history of north-central New Mexico as expressed in the rocks and landscapes of the Hagan Basin. Two field trips were offered on the second day. The first ascends to Sandia Crest with stops in Tijeras Canyon, Cedar Crest and the "great unconformity" between Proterozoic granites and Pennsylvanian sedimentary rocks. The second trip focuses on the Neogene stratigraphy, sedimentology, structure, and geomorphology of the Albuquerque Basin as exposed along the lower Rio Jemez valley and vicinity. The trip travels to San Ysidro, Loma Creston, La Ceja, and Sand Hill Fault. There are again two roadlogs offered on the final day. The first travels to Tijeras, Cedro Canyon t rilobite locality and the Kinney Brick Quarry. The alternative roadlog travels into the Estancia Basin to study the geomorphic and hydrologic response in the basin to Late Pleistocene and Holocene climate change.
Table of Contents:
Note —Downloads of the papers below are free. Road logs, mini-papers, and some other sections of recent guidebooks are only available in print.
Front Matter: (includes Dedication, President's Message, & Conference Organizer's Message)
Download (868 KB PDF)
Roadlogs: (each includes listed mini-papers)
Mini-papers:
Mini-papers:
Mini-papers:
Roadlog References:
Download (4.97 MB PDF)
Plates:
Download (4.31 MB PDF)
Papers:
Back Matter: (usually includes a stratigraphic column and/or correlation chart)
Download (1.42 MB PDF)
---
Recommended Guidebook Citation:
Pazzaglia, F. J.; Lucas, S. G.; [eds.], 1999, Albuquerque Geology, New Mexico Geological Society, Guidebook, 50th Annual Field Conference, 448 pp. ISBN: 9781585460854 https://doi.org/10.56577/FFC-50