New Mexico Geological Society
Fall Field Conference Guidebook - 57
Caves & Karst of Southeastern New Mexico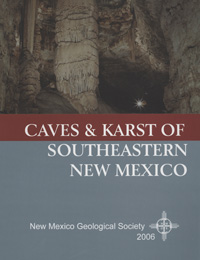 Lewis Land, Virgil W. Lueth, William Raatz, Penny Boston and David W. Love, eds, 2006, 344 pages.
Welcome to southeastern New Mexico and the 57th annual Fall Field Conference of the New Mexico Geological Society. This year's conference marks our third venture into the Carlsbad area. Our hosts will share with us a number of wide-ranging geologically and environmentally relevant topics as we explore the subterranean environments of caves; the oil, natural gas, and mineral resources of the area; and the engineering hazards of karst terrain. On the first day, each participant will have a chance to tour at least one of the diverse and magnificent limestone caves of the Guadalupe Mountains including the world famous Carlsbad Caverns National Park. On the second day, the group will visit Parks Ranch Cave, the second longest gypsum cave in the United States. On the last day, the hosts will share with us hydrology and environmental hazards associated with gypsum karst.
Table of Contents:
Note —Downloads of the papers below are free. Road logs, mini-papers, and some other sections of recent guidebooks are only available in print.
Front Matter: (includes Dedication, President's Message, & Conference Organizer's Message)
Download (1.43 MB PDF)
Roadlogs: (each includes listed mini-papers)
Mini-papers:
Mini-papers:
Mini-papers:
Mini-papers:
Mini-papers:
Roadlog References:
Download (395 KB PDF)
Plates:
Download (41.98 MB PDF)
Papers:
Back Matter: (usually includes a stratigraphic column and/or correlation chart)
Download (246 KB PDF)
---
Recommended Guidebook Citation:
Land, Lewis; Lueth, Virgil W.; Raatz, William; Boston, Penny; Love, David L. [eds.], 2006, Caves and Karst of Southeastern New Mexico, New Mexico Geological Society, Guidebook, 57th Annual Field Conference, 344 pp. ISBN: 9781585460922 https://doi.org/10.56577/FFC-57