New Mexico Geological Society
Fall Field Conference Guidebook - 43
San Juan Basin IV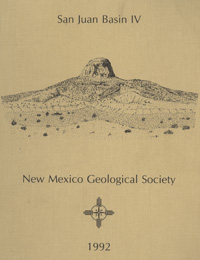 Spencer G. Lucas, Barry S. Kues, Thomas E. Williamson and Adrian P. Hunt, eds, 1992, 411 pages.
The 1992 New Mexico Geological Society Fall Field Conference tours part of the San Juan Basin of northwestern New Mexico. This represents the fourth trip to this region in the 43 annual field conferences of the Society. However, unlike the preceding three trips to the San Juan Basin, this year's conference is headquartered in Cuba and focuses on the east-central part of the San Juan Basin, traversing an area largely untouched by preceding field conferences. Furthermore, the content of this year's trip and the guidebook differ fundamentally from those of earlier conferences (Guidebooks 1, 2, 28). These differences stem from new ideas, discoveries and approaches, all of which have appeared since the NMGS last visited the San Juan Basin in 1977. Sequence stratigraphy, coal-bed methane and a terminal Cretaceous bolide impact that wiped out the dinosaurs were unknown or unheard of in the halcyon days of San Juan Basin III. The first-day road log is from Cuba to La Ventana, San Luis, Cabezon, Mesa Portales, Mesa de Cuba and return to Cuba. The second day traverses a portion of the central San Juan Basin and focuses on the stratigraphy, sedimentology, paleontology and economic geology of the uppermost Cretaceous and lower Tertiary strata exposed in this portion of the basin. The road log begins in Cuba on to Counselor, Lybrook, Nageezi, Barrel Springs, Fossil Forrest, Blanco Trading Post and returns to Cuba. On the third day we will travel from Cuba to La Jara, Regina, Almagre Arroyo, Llaves, Gallina, Arroyo del Agua, Coyote, Youngsville and Abiquiu Dam. The drive will be through extensive outcrops fo the Eocene San Jose Formation and will end at Abiquiu Dam, for a discussion on the engineering geology of the dam and the Upper Triassic stratigraphy of the Chama Basin.
Table of Contents:
Note —Downloads of the papers below are free. Road logs, mini-papers, and some other sections of recent guidebooks are only available in print.
Front Matter: (includes Dedication, President's Message, & Conference Organizer's Message)
Download (1.45 MB PDF)
Roadlogs: (each includes listed mini-papers)
Mini-papers:
Mini-papers:
Mini-papers:
Roadlog References:
Download (3.50 MB PDF)
Papers:
Back Matter: (usually includes a stratigraphic column and/or correlation chart)
Download (2.01 MB PDF)
---
Recommended Guidebook Citation:
Lucas, S. G.; Kues, B. S.; Williamson, T. E.; Hunt, A. P.; [eds.], 1992, San Juan Basin IV, New Mexico Geological Society, Guidebook, 43rd Annual Field Conference, 411 pp. https://doi.org/10.56577/FFC-43