New Mexico Geological Society
Fall Field Conference Guidebook - 44
Carlsbad Region, New Mexico and West Texas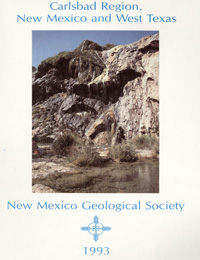 David W. Love, John W. Hawley, Barry S. Kues, George S. Austin, and Spencer G. Lucas, eds, 1993, 357 pages.
The 1993 New Mexico Geological Society/West Texas Geological Society joint Fall Field Conference tours the Permian-dominated landscape of southeastern New Mexico and adjacent areas of west Texas. This area is a common stomping ground for the West Texas Geological Society (WTGS), but the Field Conference is only the second one in the Carlsbad region for the New Mexico Geological Society (the first since 1954, Guidebook 5). We feel the collaboration between the two societies has produced a guidebook covering an extremely wide-ranging array of geologic interests, including Precambrian tectonics, Permian sequence stratigraphy, Triassic, Cretaceous and upper Cenozoic stratigraphy, Laramide structures, sulfur deposits in Neogene karst basins, Quaternary soils, overviews of potash and oil and gas resources, Guadalupe Mountain caves, the WIPP site and landfill locations. The first-day road log is from Carlsbad to Whites City, Orla, Loving, Potash Enclave and return to Carlsbad. The trip emphasizes the evolution of the Delaware Basin. The second day concentrates on the world-class geology and paleontology of the Guadalupe Escarpment from Whites City to Salt Basin. The road log begins in Carlsbad and then on to Whites City, Guadalupe Mountains National Park, Salt Flat, Washington Ranch and return to Carlsbad. The third day traverses Permian basinal, shelf-edge, shelf-crest, inner-shelf and evaporite-shelf facies. The road log goes from Carlsbad to Dark Canyon, Last Chance Canyon, Sitting Bull Falls, and Rocky Arroyo before returning to Carlsbad.
Table of Contents:
Note —Downloads of the papers below are free. Road logs, mini-papers, and some other sections of recent guidebooks are only available in print.
Front Matter: (includes Dedication, President's Message, & Conference Organizer's Message)
Download (1.76 MB PDF)
Roadlogs: (each includes listed mini-papers)
Mini-papers:
Mini-papers:
Mini-papers:
Mini-papers:
Roadlog References:
Download (475 KB PDF)
Papers:
Back Matter: (usually includes a stratigraphic column and/or correlation chart)
Download (298 KB PDF)
---
Recommended Guidebook Citation:
Love, D. W.; Hawley, J. W.; Kues, B. S.; Austin, G. S.; Lucas, S. G.; [eds.], 1993, Carlsbad Region (New Mexico and West Texas), New Mexico Geological Society, Guidebook, 44th Annual Field Conference, 357 pp. https://doi.org/10.56577/FFC-44