New Mexico Geological Society
Fall Field Conference Guidebook - 45
Mogollon Slope, West-Central New Mexico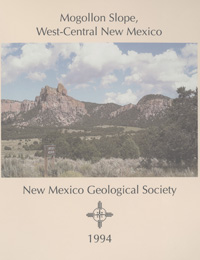 Richard M. Chamberlin, Barry S. Kues, Steven M. Cather, James M. Barker and William C. McIntosh, eds, 1994, 335 pages.
The 1994 New Mexico Geological Society Fall Field Conference journeys through the serene outback of northeastern Catron County, New Mexico and part of adjacent Apache County, Arizona. We refer to this scenic terrane of volcanic capped ranges on the northern periphery of the Mogollon-Datil volcanic field and the downwarped southern margin of the Colorado Plateau as the Mogollon slope. The first day emphasizes the Cenozoic stratigraphy and structure of the Mogollon slope. The tour travels from Socorro to Magdalena, Datil, Westen Crosby Mountains, Sawtooth Mountains, Pie Town, Quemado and Quemado Lake. The second day traverses part of the northwestern margin of the late Eocene to late Oligocene Mogollon-Datil volcanic field. The route begins at Quemado Lake and on to Mangas Mountains, Omega, Quemado, Tejana Mesa and Red Hill, New Mexico and over into Springerville and Alpine in Arizona. On the final day the trip departs from Alpine, Arizona and goes on to Luna, Reserve, Apache Creek, Horse Springs and Datil, New Mexico.
Table of Contents:
Note —Downloads of the papers below are free. Road logs, mini-papers, and some other sections of recent guidebooks are only available in print.
Front Matter: (includes Dedication, President's Message, & Conference Organizer's Message)
Download (1.91 MB PDF)
Roadlogs: (each includes listed mini-papers)
Mini-papers:
Mini-papers:
Mini-papers:
Roadlog References:
Download (4.12 MB PDF)
Papers:
Back Matter: (usually includes a stratigraphic column and/or correlation chart)
Download (986 KB PDF)
---
Recommended Guidebook Citation:
Chamberlin, R. M.; Kues, B. S.; Cather, S. M.; Barker, J. M.; McIntosh, W. C.; [eds.], 1994, Mogollon Slope (West-Central New Mexico and East-Central Arizona), New Mexico Geological Society, Guidebook, 45th Annual Field Conference, 335 pp. https://doi.org/10.56577/FFC-45