New Mexico Geological Society
Fall Field Conference Guidebook - 47
Jemez Mountains Region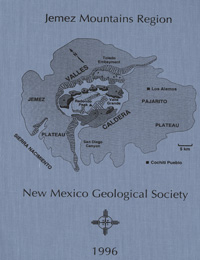 Fraser Goff, Barry S. Kues, Margaret Anne Rogers, Les D. McFadden and Jamie N. Gardner, eds, 1996, 484 pages.
This is the first time that a New Mexico Geological Society Field Conference has focused entirely on the Jemez Mountains region. Previous trips through this area were long ago and relatively brief; the third day of the 1961 conference (Albuquerque-Jemez Springs-Los Alamos-San Felipe Pueblo, Guidebook 12), and the third day of the 1974 conference (Abiquiu-Los Alamos-Jemez Springs-Bernalillo, Guidebook 25). Articles or photos touching upon the geology of the Jemez Mountains region have also appeared in Guidebooks 30 (1979), 33 (1982), 35 (1984), 43 (1992) and 46 (1995). It seems that the Jemez Mountains region is a part of a lot of people's "country," but has never received a thorough examination by NMGS before. This conference is overdue, as the Jemez Mountains combines wonderful scenery, diverse and world-renowned geological features, and intensive recent studies by many investigators, some from perspectives not available or considered important in the 1960s and 1970s. The great interest in the Jemez region by dozens of earth scientists at numerous institutions is amply demonstrated by the size of this guidebook - with 50 papers, three detailed road logs, and about 500 pages, this is the largest single volume ever published by the New Mexico Geological Society. The first day road log travels from Bernalillo to San Ysidro, Southern Nacimiento Mountains, Guadalupe Box, Jemez Springs, Valles Caldera, and Los Alamos. The second day road log is from Los Alamos thorugh Valle Caldera. The final day is from Los Alamos through the southeastern Jemez Mountains to Cochiti Pueblo and the Rio Grande.
Table of Contents:
Note —Downloads of the papers below are free. Road logs, mini-papers, and some other sections of recent guidebooks are only available in print.
Front Matter: (includes Dedication, President's Message, & Conference Organizer's Message)
Download (1.41 MB PDF)
Roadlogs: (each includes listed mini-papers)
Mini-papers:
Mini-papers:
Mini-papers:
Roadlog References:
Download (5.71 MB PDF)
Papers:
---
Recommended Guidebook Citation:
Goff, F.; Kues, B. S.; Rogers, M. A.; McFadden, L. S.; Gardner, J. N.; [eds.], 1996, Jemez Mountains Region, New Mexico Geological Society, Guidebook, 47th Annual Field Conference, 484 pp. https://doi.org/10.56577/FFC-47