New Mexico Geological Society
Fall Field Conference Guidebook - 56
Geology of the Chama Basin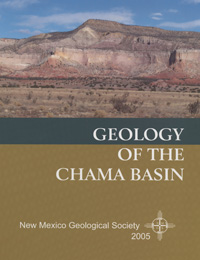 Spencer G. Lucas, Kate E. Zeigler, Virgil W. Lueth and Donald E. Owen, eds, 2005, 456 pages.
The 56th New Mexico Geological Society Fall Field Conference will be held in the Chama-Ghost Ranch region, previously visited by NMGS in 1960 (Guidebook 11) and in 1974 (Guidebook 25). This conference moves across much of the southern and eastern Chama Basin. It begins outside of the basin in Espanola, then traverses the western Rio Grande rift and southern flank of the Chama Basin to progress to Ghost Ranch at the end of the first day via Abiquiu, Youngsville, Coyote, and Gallina. The second day moves from Ghost Ranch to Chama, and the last day visits Cumbres Pass, Los Brazos, and Heron Lake. There is also a supplemental road log from Tierra Amarilla to El Vado Dam.
Best Guidebook Award, 2007 — Geoscience Information Society
Table of Contents:
Note —Downloads of the papers below are free. Road logs, mini-papers, and some other sections of recent guidebooks are only available in print.
Front Matter: (includes Dedication, President's Message, & Conference Organizer's Message)
Download (1.52 MB PDF)
Roadlogs: (each includes listed mini-papers)
Mini-papers:
Mini-papers:
Mini-papers:
Roadlog References:
Download (419 KB PDF)
Plates:
Download (39.86 MB PDF)
Papers:
Back Matter: (usually includes a stratigraphic column and/or correlation chart)
Download (1.16 MB PDF)
---
Recommended Guidebook Citation:
Lucas, Spencer G.; Zeigler, Kate E.; Lueth, Virgil W.; Owen, Donald E.; [eds.], 2005, Geology of the Chama Basin, New Mexico Geological Society, Guidebook, 56th Annual Field Conference, 456 pp. ISBN: 9781585460915 https://doi.org/10.56577/FFC-56