New Mexico Geological Society
Fall Field Conference Guidebook – 60
Geology of the Chupadera Mesa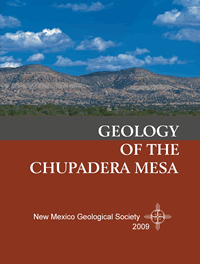 Virgil Lueth, Spencer G. Lucas, Richard M. Chamberlin, 2009, 438 pages.
High and lonesome, in the center of New Mexico, the Chupadera Mesa is home to a handful of ranchers and visited only occasionally by a few hearty geologists. Here we present new studies concerning the geology of this harsh but beautiful country. In this volume geologists detail the geologic history ranging from the Proterozoic to the Recent via comprehensive roadlogs and illustrations. Over thirty research papers document the latest discoveries over diverse subjects ranging from paleontology and stratigraphy to geophysics, tectonics and ore deposits. Seventeen color plates illustrate the geological complexity of this enchanting area of New Mexico.This is the 60th in a series of annual guidebooks by the New Mexico GeologicalSociety. The guidebooks collectively provide the most comprehensive library of geologic literature for New Mexico and adjacent states.
There are two versions of this guidebook available — the complete guidebook (438 pages), and a version with just the road logs that is spiral bound (126 pages).
ISBN: 9781585460953
Contains road logs and mini-papers only, spiral bound.
Table of Contents:
Note —Downloads of the papers below are free. Road logs mini-papers, maps, and other sections are only available in print.
Mini-papers:

Mini-papers:

Mini-papers:

Papers:

Note — To download papers from this guidebook, you will need a PDF viewer like the free Adobe Acrobat Reader.