New Mexico Geological Society
Fall Field Conference Guidebook – 66
Geology of the Las Vegas Region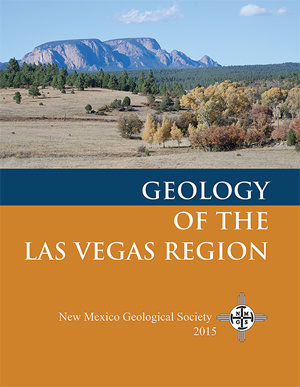 Jennifer Lindline, Michael Petronis, and Joseph Zebrowski, [editors]
2015, 312 pages.
The Las Vegas, New Mexico, region, the focus of the 2015 New Mexico Geological Society Fall Field conference, sits at the juxtaposition of the southern Sangre de Cristo Mountains and the southern High Plains.
This guidebook presents the diverse and exceptional geology of this region, from Proterozoic crystalline basement through the Phanerozoic stratigraphy and Tertiary igneous rocks. Following the guidebook through this geologic tour will also highlight important aspects of water issues and water conveyance in this high desert region, and inevitably displays the spectacular views of Hermit Peak, the Sangre de Cristo Mountains, the Mora River Valley, Gallinas Canyon, and the High Plains grasslands. This guidebook includes complete geologic road logs based from the City of Las Vegas, with mileages, photographs and short discussion papers on a range of topics from local landmarks, legends and lore to discussions of geologic effects on water quality and wood plant populations — in addition to recent geologic mapping and fossil assemblage reviews. The complete volume also includes a wide range of technical topics discussed in twelve different papers — from Proterozoic province boundaries to Pennsylvanian-Permian stratigraphy to evaluations of economic geologic potential for the region.
This is the 66th in a series of annual guidebooks produced by the New Mexico Geological Society. This and other guidebooks cover large regions of New Mexico, providing a comprehensive geologic resource, road trip education, and entertainment for a wide range of audiences.
There are two versions of this guidebook available, the complete guidebook (312 pages), and a version with just the road logs that is spiral bound (158 pages).
Table of Contents:
Note —Downloads of the papers below are free. Road logs, mini-papers, and some other sections of recent guidebooks are only available in print.
Roadlogs: (each includes listed mini-papers)
Mini-papers:
Mini-papers:
Mini-papers:
Papers:
---
Recommended Guidebook Citation:
Lindline, Jennifer; Petronis, Michael; Zebrowski, Joseph, 2015, Guidebook 66 - Geology of the Las Vegas Area, New Mexico Geological Society, Guidebook, 66th Annual Field Conference, 312 pp. ISBN: 9781585461028 https://doi.org/10.56577/FFC-66