New Mexico Geological Society
Fall Field Conference Guidebook - 34
Socorro Region II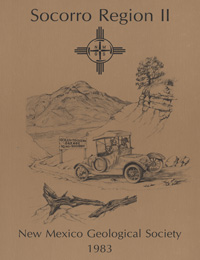 Charles E. Chapin and Jonathan F. Callender, eds, 1983, 344 pages.
The 1983 New Mexico Geological Society field conference returns to the Socorro area after a lapse of 20 years (Guidebook 14). One of the advantages of returning to the site of a former field conference is the perspective gained on trends and progress in the geological sciences during the intervening years. We think you will be impressed with the enormous growth in knowledge of the geology of the Socorro area during the past 20 years. Socorro is located at a four-way intersection of the Rio Grande rift, Colorado Plateau, High Plains, and Mogollon-Datil volcanic field. The 41 papers and 11 mini-papers contributed to the guidebook reflect this diversity, as do the road logs. Of particular interest are several historical papers, both in the main body of the guidebook and in the road logs, that present previously unpublished data on past events in the Socorro area.
The first-day road log is from Socorro to Mesa del Yeso, Joyita Hills, Johnson Hill, Cerros de Amado, Lomas de las Canas, Jornada del Muerto, Carthage, and return to Socorro. This tour emphasizes: (1) enigmatic low-angle faulting, perhaps of more than one age and of both compressional and extensional origins; (2) upper Paleozoic and Cretaceous stratigraphy; and (3) upper Cenozoic geomorphic features and deposits of the Rio Grande rift.
The second-day road log is from Socorro to Lemitar Mountains, La Jencia Basin, Baca Canyon, Riley, Jeter Mine, and San Lorenzo Canyon. This tour of Rio Grande rift and Colorado Plateau terrain NW and N of Socorro emphasizes: (1) structural style of severely extended crust; (2) nature of the boundary between strongly extended crust and the Colorado Plateau; (3) a valley calcrete deposit along Rio Salado; (4) lacustrine delta deposits in Baca Formation (Eocene); (5) structural interpretations of low-angle Jeter fault; (6) uranium mineralization in Riley area and at Jeter Mine, and (7) bolson deposits of the early rift Popotosa Formation.
The third-day road log is from Socorro to San Antonio, Nogal Canyon, Chupadera Mountains, Luis Lopez Manganeses district, and the MCA Mine. This tour of the Chupadera Mountains south of Socorro provides a revealing cross section of stratigraphic and structural relationships within the Socorro cauldron (synonyms are caldera or volcanic-collapse basin).
Table of Contents:
Note —Downloads of the papers below are free. Road logs, mini-papers, and some other sections of recent guidebooks are only available in print.
Front Matter: (includes Dedication, President's Message, & Conference Organizer's Message)
Download (1.93 MB PDF)
Roadlogs: (each includes listed mini-papers)
Mini-papers:
Mini-papers:
Mini-papers:
Papers:
---
Recommended Guidebook Citation:
Chapin, C. E.; Callender, J. F.; [eds.], 1983, Socorro Region II, New Mexico Geological Society, Guidebook, 34th Annual Field Conference, 344 pp. https://doi.org/10.56577/FFC-34