New Mexico Geological Society
Fall Field Conference Guidebook - 37
Truth or Consequences Region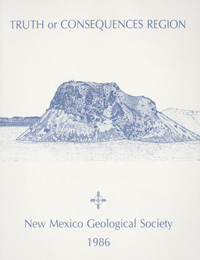 Russell E. Clemons, William E. King, Greg H. Mack and Jiri Zidek, eds, 1986, 317 pages.
The first-day road log is from Truth or Consequences to Sierra Cuchillo, Winston, South Fork Cuchillo Negro Creek, Fluorine, and Central Black Range. This tour will visit the volcanic areas northwest of Truth or Consequences in the Sierra Cuchillo, Winston graben, and Black Range. The tour will emphasize: Miocene to Pleistocene stratigraphy and sedimentology of the Palomas Formation, stratigraphy of the Rubio Peak Formation including spectacular exotic bloacks of Pennyslvanian limestone, Ag, Au, Cu fissure-vein mineralization of the Chloride mining district, and pyroclasitc volcanism and tin mineralization associated with the Taylor Creek Rhyolite. The second-day road log is from Truth or Consequences to Fra Cristobal Range via Elephant Butte Dam, Northern Caballo Mountains, Cutter Sag, and Jornada del Muerto. The trip describes the Tertiary and Quaternary Palomas Formation, Quaternary terrace deposits, Cretaceous and early Tertiary stratigraphy, and Pliocene basalts. Access to the Fra Cristobal Range was available by special arrangement for the conference. Individuals and groups may not return for subsequent tours without permission from the landowners. The third-day road log is from Truth or Consequences to southeastern Caballo Mountains and San Diego Mountain via I-25 and the Jornada del Muerto. This day's tour will focus on Laramide tectonics in the southern Caballo Mountains and the Tonuco uplift (San Diego Mountain).
Table of Contents:
Note —Downloads of the papers below are free. Road logs, mini-papers, and some other sections of recent guidebooks are only available in print.
Front Matter: (includes Dedication, President's Message, & Conference Organizer's Message)
Download (27.22 MB PDF)
Roadlogs: (each includes listed mini-papers)
Mini-papers:
Mini-papers:
Roadlog References:
Download (542 KB PDF)
Papers:
---
Recommended Guidebook Citation:
Clemons, R. E.; King, W. E.; Mack, G. H.; Zidek, J.; [eds.], 1986, Truth or Consequences Region, New Mexico Geological Society, Guidebook, 37th Annual Field Conference, 317 pp. https://doi.org/10.56577/FFC-37